The Piñero tourism group has signed a collaboration agreement with the multinational technology company Huawei to implement GPON and WiFi technology in the company's hotels in the Dominican Republic.
The agreement was signed at the Huawei stand at the Mobile World Congress 2023 by Mateo Ramón, head of technology at Grupo Piñero, and Jack Heliang, general manager of Huawei in Spain. The signing was also attended by Ma Haixu, president of strategy and marketing at Huawei.
Thanks to the agreement with the technology company, Grupo Piñero will have a WiFi network and passive optical network technology with gigabit capacity (GPON) in a selection of its resorts in the Dominican Republic, ensuring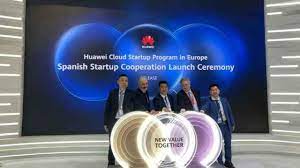 better connectivity for all its guests.
The hotels to be upgraded are Cayo Levantado Resort and Bahia Principe Grand Bavaro, Bahia Principe Luxury Samana, Bahia Principe Grand Turquesa and Bahia Principe Grand Aquamarine.
The breakthrough provided by Huawei to Grupo Piñero's resorts is the implementation of GPON technology. This is a telecommunications access technology that uses fiber optic cabling to reach the end user.
This technology creates convergent broadband networks based on IP, maximizing assets and allowing more services to be offered over the same infrastructure. "Its main advantages are greater cable distance, better quality of service and increased security in user navigation," as the technology company explains.
With this agreement, Grupo Piñero maintains its commitment to innovation for the constant improvement of its business through the implementation of numerous projects that enhance digitization and improve customer experience.
Source:  Bolsamania.com
Learn more: HOTELS