"Siri, open Google News," Jose Beltran dictated to his smartphone, which appeared to be turned off, but not to him, even though he is visually impaired. The gestures he used, touching the touch screen of his device, gave him away.
That was an extraordinary feat.
Then, pressing the side buttons, he moved his fingers again and again from right to left and vice versa, and turned on the screen so that those present at the Listín Diario Breakfast, hosted by the newspaper's director, Miguel Franjul, could observe what he was doing. It was then when he positioned himself in the browser and normally spoke again to the device.
Accessibility to new information and communication technologies is becoming more and more of a reality for people with disabilities, as Beltrán, in charge of project design at the Francina Hungría Foundation, and its president, Francina, made clear.
"Since that accessibility menu appeared, I have a friend -also partially blind- who spends a lot of her life reading memes (funny illustrations) because she couldn't before," Beltrán said jokingly.
Both showed, among other things, what a cell phone can do these days, especially the Iphone, from the U.S. company Apple, although they clarified that Android devices also have some of the functions, but very archaic.
Mobile with accessibility
Being able to make and receive phone calls, read and send text messages, play music, consult social networks, listen to audio books, know what color something is, read printed materials, identify household items, take pictures… all this is already possible for a visually impaired user thanks to the technology.
Although the Iphone, for example, has been accessible to the blind since 2009, according to Beltrán, not many people know how a visually impaired person can use these phones, tablets and computers.
In the case of Iphone devices, Apple included a screen-reading program called VoiceOver. This software, which comes pre-installed, reads aloud everything on the cell phone screen when the visually impaired person touches it, providing auditory descriptions of buttons and options.
To open an application, one must tap twice, and subsequently, VoiceOver will read the selected text as the user scrolls across the screen. "The user enters into a kind of tactile communication with the technological device," describes Beltran.
Other settings found in the accessibility menu, he explains, are font enlargement, which improves the readability of texts, for people with low vision, and also Braille writing, which is automatically activated when the phone is rotated.
"However, it takes longer braille when I have to write, especially in my group chats on the WhatsApp messaging application," said Beltran and prefers to use the VoiceOver method, which is compatible and customizable with braille.
Just then, Francina was also showing how she could read a PDF document. She slid across her cell phone screen by tapping and at the same time turning a wheel containing a series of settings and opened it.
"I've done a lot of studying with this phone," she said, because one of the biggest barriers, previously, was that PDFs were in images and instant reading was impossible.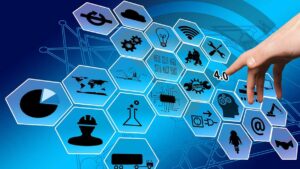 Taking photos
Beltrán also pointed out that because of the artificial intelligence that these devices have, he now spends his time taking pictures. He does this because the phone describes in real time what the camera is visualizing. Colors, signs, trees, streets, business premises, buildings… everything in the environment. "If I point the camera, it will describe the environment to me in real time," he said and enthusiastically demonstrated by placing the rear camera in front of an object and the cell phone did not disappoint him.
Adaptation
Francina said that the culture of the Dominican Republic has not yet understood that disability is a dynamic concept, and that as technology advances, so does the lives of people with disabilities.
Currently, some professions, such as computer science, which used to be reserved for people with visual disabilities, can now be seen exercising them.
"Before it was studying journalism or law. Now there are people who are studying hotel management, computer science…", said Beltrán. He pointed out that because of the artificial intelligence that these devices have, he now spends his time taking pictures. He does this because the phone describes in real time what the camera is visualizing.
Learn More: TECHNOLOGY