Barceló Bávaro Convention Center is ready to host the twenty-third edition of the Dominican Annual Tourism Exchange (DATE 2023), organized by the National Association of Hotels and Tourism of the Dominican Republic (Asonahores), from April 26 to 28 in Punta Cana.
Zarina Montalvo, commercial director of the Barceló Bávaro Grand Resort, said it is a source of pride to host for the twelfth time the main commercial tourism event in the Caribbean and to offer an environment of high professional quality that is constantly being updated.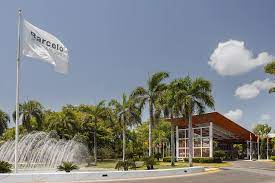 Montalvo added that, for Barceló, having the opportunity to hold this event is of great importance, to continue demonstrating its vocation to be in the front line of support when it comes to Dominican tourism".
The Convention Center is an integral part of the Barceló Bávaro Grand Resort, has been catalogued as one of the largest and most complete in the country, for having 11,500 square meters, in which are conveniently located 13 rooms convertible into 24, with a capacity from 20 to 5,000 people.
"Our Convention Center serves as a home for large conventions, and places the country on the list of the most attractive venues for international meetings in the region," concluded Montalvo.
Source: Acento.com
Learn more: TOURISM