Mitur strategies and Sky Cana operations have contributed to the arrival of some 35,295 Cuban nationals to the country between June and July.
After the Dominican airline Sky Cana started an operation with Cuban tourists from Havana last June through the Punta Cana International Airport, around 35,295 Cuban nationals have visited the DR between June and July.
The Ministry of Tourism (Mitur), through its report "Dominican Tourism Results in July", reported that in June 2022 17,163 Cubans arrived in the country and in July 18,132, since in May the number was 6,474.
The visitors spent an average stay of 7 days.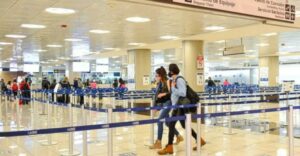 To the referred increase in the visit of Cuban citizens to the country, Mitur called it "DR as a meeting destination" since the operations carried out by the airline are processed by the Ministry of Foreign Affairs (Mirex), through the DR Consulate in Cuba as part of the visa facilitation process to sponsor a reunion in Punta Cana.
The Mitur report also indicates that 32,118 Cuban visitors reside in the United States, making up 52% of passengers between the ages of 35 and 60. A 1,933 from Cuba, with ages ranging from 35 to 60, making up 57% of the passengers, and 1,235 from other destinations.
It is recalled that with this operation an influx of almost 15,000 visitors was estimated for the summer season, but upon noting the results of the report, the figure was exceeded, through the 30 frequencies, one every Friday, Saturday and Sunday, which is carried out through the wholesale agency Yes Travel of the United States.
In addition, the CEO of Sky Cana, Frank Diaz, before starting operations indicated that: "We have been requested frequency on Fridays, Saturdays and Sundays for the family reunion of Cubans who come to Punta Cana and Cuban nationals residing in the United States who come to reunite with their relatives who are unable to travel to the US, will use the Dominican Republic to make the reunion in the Eastern destination".
Learn More: Tourism