Dolphin Discovery Punta Cana, a member of The Dolphin Company family, a worldwide park operator, announced that every weekend in February, starting this Saturday the 11th, children visiting the habitat will have the opportunity to meet their favorite characters Masha and the Bear, who will be at the park all day long.
In addition to offering incredible interactions with marine mammals and having "The Pirate Island", a fun water park made up of eight different slides and water curtains, palm trees, treasure chests and pirates that make this park a unique and fun place for children, Dolphin Discovery Punta Cana always seeks to be at the forefront with the creation of events that can enjoy both visitors to the destination, as well as locals who live in the Dominican Republic and are part of the community that the company seeks to positively surprise.
"We are very excited about this Masha and the Bear event, we are sure it will bring a lot of happiness to the little ones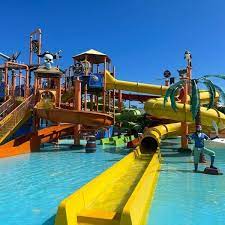 in the family, as it is undoubtedly about two individuals from whom they can learn great things while having fun at the same time. In addition, their day will be complete if they interact with our wonderful dolphins and get to know the children's water park that same day", commented Jesus Sanchez, General Manager of Dolphin Discovery Punta Cana.
With events like this, Dolphin Discovery Punta Cana seeks to create memorable experiences for all its visitors by varying the special events it offers to the public. During the year 2022, it organized diverse events such as foam parties, special birthday parties, children's parties, among many others, with the objective of pampering all its attendees, from the youngest to the oldest.
About Dolphin Discovery
Dolphin Discovery has contributed, for more than 28 years, to the study and conservation of marine mammals, creating bonds of love and respect through the best experience of interaction with these species. The 12 habitats that make up Dolphin Discovery in Mexico and the Caribbean have welcomed more than 12 million people throughout its history and is proudly part of The Dolphin Company, the largest park operator in Latin America.
Source: Caribbeannewsdigital.com
Learn more: HOTELS