DR leads Caribbean tourism growth with 40% more than in 2019
Travel data collection firm ForwardKeys released a report indicating that travel in the Caribbean increased significantly in 2022 due to gracious hospitality and excellent air connections, which now justify more international visitors to the region compared to other parts of the world.
Throughout 2020 and 2021, ForwardKeys data highlights success stories in Puerto Rico, and the Dominican Republic, but in 2022 the number of travelers across the region grows, the report insists.
VP of Insights (vice president) at ForwardKeys, Olivier Ponti, noted that the Caribbean example is not just recovery, but growth, despite all the macroeconomic factors such as the slowdown in the global economy, and rising gasoline costs.
In the fourth quarter of this year 2022 tourism figures accelerate even more. Leading the way in arrivals from abroad is the Dominican Republic, with 40% more than in 2019, followed by the U.S. Virgin Islands (+33), Bonaire (+30) and Martinique (+26).
Air connectivity seems to be the key to achieving growth, Ponti adds, as a look at the Seat Capacity Data shows destinations such as the Dominican Republic and Guadeloupe performing better thanks to increased direct flights since 2019.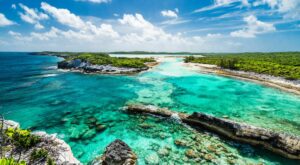 In the fourth quarter, the Caribbean is very popular among Colombians. There is a 54% change in the number of arrivals versus the same time in 2019. Meanwhile, Curaçao may see a +304 percent change from Argentina.
Finally, some Caribbean destinations are even managing to attract the non-leisure market. Across the region, business travel is back, and in growth mode.
ForwardKeys establishes travel trends and provides information on who travels where and when, helping companies that rely on this economic segment for future business.
The firm, founded in 2010, with global service, provides invaluable assistance to travel organizations, hotels and retailers.
In addition to ticketing elements, ForwardKeys' databases reflect airline capacity, airfares and even the market in general, based on a proprietary algorithm.
Learn More: DEVELOPMENT