The Minister of Tourism, David Collado, left this Sunday for Madrid, Spain, to head the Dominican delegation that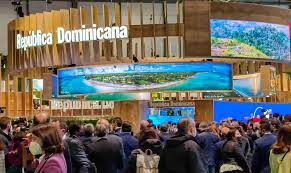 will be participating in the International Tourism Fair (FITUR 2023), in which the Dominican Republic expects to have an outstanding presence and participation.
Collado will be working on a busy agenda that begins this Monday and in which more than 50 meetings have already been scheduled, in the midst of which agreements will be signed with major hotel brands and airlines.
"We go to this Fair with the commitment to continue working tirelessly and with transparency to be able to continue in 2023 the same growth rate we had in 2022 and that European visitors and investors see the Dominican Republic as the ideal destination in the Caribbean," said Collado before departing from the Las Americas International Airport (AILA).
The first major event of the week will be on Tuesday 17 at noon at the Madrid Marriott Hotel Auditorium, where the Ministry of Tourism's "ROADSHOW" will be presented to more than 200 tour operators and travel agencies from Europe to present the attractions and innovations of the Dominican Republic as a destination.
On Wednesday will be the official inauguration of the Dominican Republic Stand at FITUR, where Minister Collado will be accompanied by the president of Banco Popular, Christopher Paniagua, as well as the administrator of Banreservas, Samuel Pereyra; the president of ASONAHORES, David Llibre; the Dominican ambassador to the Kingdom of Spain, Juan Bolívar Diaz, among other representatives of the private sector and officials who will be part of the delegation.
The World Tourism Organization and Mitur will hold an investment breakfast on Thursday 19, which will present the destination of Miches, its development plans, and all the details about the hotels that have been opening and will be opening in 2023 and 2024, positioning this pole as one of the new tourist jewels of the country.
Throughout the week, several awards will also be presented to the Dominican Republic for its outstanding tourism performance during 2022, being the only country in the world that grew in terms of tourist arrivals compared to 2019.
The official informed that at the Dominican stand there will be more than 52 co-exhibitors, representatives of private companies.
"In addition, there will be a colorful cultural and gastronomic representation and an immersive experience, where we will showcase our beautiful country," said Minister Collado at the time of leaving for Madrid to participate in FITUR, the first major world tourism fair of the year.
Source: Mitur.gob.do
Learn more: TOURISM