The Ministry of Tourism (MITUR) and the World Tourism Organization (UNWTO), signed last year a cooperation agreement for the implementation of the Primer Plano Project with the objective of empowering women.
This project provided assistance and support to companies in four UNWTO member states to achieve the SDG 5 targets and the Plan of Action on Women in Tourism during the recovery from the COVID-19 crisis.
It was signed by the Minister of Tourism of the Dominican Republic, David Collado, and the UNWTO Secretary-General, Zurab Pololikashvili, on November 18, 2021.
Within the framework of this project, the Ministry of Tourism committed to execute a series of activities, such as; implementation of an action plan, training in governance with a gender perspective and support in training activities.
Also, monitoring of the implementation of the action plan, support in the dissemination of project results and awareness raising on the empowerment of women in tourism.
The strategic objectives taken into consideration for the implementation of the Action Plan were; employment, education and training, leadership, policy and decision making, community and civil society, measurement for better policies and entrepreneurship.
To achieve the objectives, it was determined to articulate job opportunities through institutional participation and network collaboration, strengthen training capacities to integrate the gender approach in national institutions linked to tourism.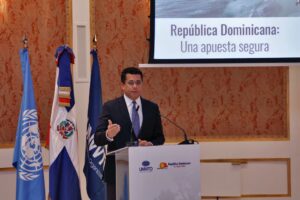 Also, to diversify and distribute tourism considering the importance of women's leadership and decision-making in order to reestablish the tourism value chain, as well as to explore, together with civil society, the link between tourism recovery and the gender approach.
Also, to produce and present data on employment in the tourism sector disaggregated by sex and to delve into the gender dimensions of the sector's entrepreneurship in order to articulate measures that benefit the recovery of tourism.
To analyze the barriers and opportunities for women tourism workers, a rapid assessment of the impact of COVID- 19 on this segment of the population, including the informal sector, was prepared.
This assessment was carried out in coordination with MITUR's Directorate of Intelligence, with a statistical approach to formal and informal employment disaggregated by sex.
As part of the commitments assumed by MITUR, the workshop "Women Entrepreneurs Impacting Dominican Tourism" was held in Santo Domingo, with the participation of 160 women, small and medium-sized entrepreneurs from 18 provinces of the country: Puerto Plata, Samaná, La Romana, Espaillat, among others.
Learn More: HIGHLIGHTS