The Dominican Civil Aviation Institute (IDAC) informed that 1 million 509 thousand 849 passengers moved in and out during the month of July 2022, through the different airports of the country.
The information was offered by the interim general director of the Dominican Civil Aviation Institute (IDAC), Héctor Porcella.
The official said that during the month of January, 1,288,972 passengers were mobilized. While in February the numbers reached 1,177,657.
He also pointed out that in March of this year, 1,347,448 passengers were mobilized.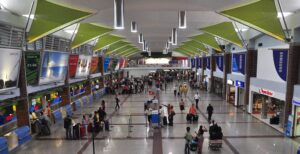 While in April, the volume of travelers that moved through the different terminals reached 1,350,993.
Meanwhile, during the month of May the number of passengers mobilized was 1,229,943, in June 1,319,310 and 1,509,849 in July.
Porcella highlighted that in the first 7 months of this year, the total number of passengers mobilized reached 9,224,172.
Passengers during this period entered and departed through the international airports of Punta Cana, La Altagracia, Las Americas International, Jose Francisco Pena Gomez, Gregorio Luperon, Puerto Plata.
In addition, the terminals of Professor Juan Bosch, Catey, of Samaná, María Montez, of Barahona, Cibao, of Santiago, International of La Romana and Joaquín Balaguer, Higüero, of Santo Domingo.
While the Ministry of Tourism, the Civil Aviation Board JAC and the Dominican Institute of Civil Aviation IDAC, project that by the end of 2022 more than 15 million domestic and foreign passengers will be mobilized.
Congratulates President Luis Abinader
The interim general director of IDAC, Héctor Porcella congratulated President Luis Abinader and Tourism Minister David Collado, for creating the conditions for the Dominican Republic to have reached that figure in its entire history.
"On behalf of the entire family of the country's aeronautical sector we also celebrate that civil aviation has been an important factor in this achievement by channeling the transport of 9 million 224 thousand 172 passengers through the airports, setting a record in Dominican commercial aviation," said Porcella.
He said that both the IDAC and the Civil Aviation Board (JAC), the Airport Department and the Specialized Airport Security Corps (CESAC), appreciate the opportunity to fully integrate into the successful strategy instituted by the Government through the Tourism Cabinet, to make the Dominican Republic the number one country in the recovery of tourism after the pandemic.
Learn More: Tourism