Banco Popular has financed projects for more than US$1.6 billion in eight years
Banco Popular Dominicanoreiterated its commitment to continue promoting the development of national tourism, reaffirming its role as a financier of the sector, to which it has allocated more than US$1.6 billion in the last eight years.
As part of the ITB Berlin fair, the financial institution held its traditional cocktail party for representatives of the tourism sector and investors with a presence in the Dominican Republic.
It emphasized that at the fair it has held more than 20 business and institutional meetings with tourism companies, investors and other institutions to detect new opportunities and promote ongoing projects.
The financing granted by Banco Popular to the Dominican tourism sector in eight years represents the construction or remodeling of more than 15,000 rooms, which have generated direct and indirect jobs for more than 28,000 people.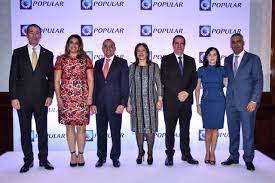 The cocktail party, which took place at the renowned Ritz-Carlton Berlin hotel, was attended by close to a hundred people, including the Minister of Tourism, David Collado; the secretary general of the World Tourism Organization (UNWTO), Zurab Pololikashvili, and his wife Tamar Bakradze; the president of the World Travel and Tourism Council (WTTC), Julia Simpson; the ambassador of the Dominican Republic in Germany, Francisco A. Caraballo; the president, senior vice president and vice president of Marketing, Public Relations and Communications of the Puntacana Group, Frank Rainieri, Haydée Rainieri and Paola Rainieri, respectively, as well as presidents and representatives of important hotel chains and investors in the country who have gathered at ITB Berlin.
At the meeting Juan Manuel Martín de Oliva, vice president of the Tourism Business Area of Popular, underscored the bank's commitment to proactively serve the sector, highlighting the importance of the joint work developed between the public and private sectors.
"We look to the future with optimism and see enormous opportunities to continue adding value to the Dominican tourism offer. A world-class offer, the result of a joint effort, in which the public and private sectors put their best efforts and all their innovative capacity so that this continues to be a success story," said the executive.
The Popular executive added that the bank is convinced that Dominican tourism will continue to grow thanks to public-private alliances, which have put the sector at cruising speed, to the benefit of the country and its people.
Meanwhile, the Minister of Tourism, David Collado, highlighted the recovery of tourism in the Dominican Republic, highlighting the presence at the cocktail of the presidents of the UNWTO and WTTC, international organizations that have positively valued in different forums the good work that has been carried out in the country to revive this industry and, with it, the national economy.
Minister Collado thanked Banco Popular for its support in this process, of which he said "it was always present in the most difficult moments of the recovery".
Likewise, the president of the Association of Hotels and Tourism of the Dominican Republic (Asonahores), David Llibre, highlighted the support of Popular to the sector, a work that, he said, gives the bank the merit of being "the bank of tourism"
Source: Acento.com.do
Learn more: TOURISM