The travel and tourism industry relies heavily on natural resources, such as paradisiacal beaches, rivers and ecosystems, making climate change a challenge for nations in the Americas. In 2019 alone, this market accounted for 26% of the gross domestic product (GDP) in the Caribbean and 10% in Latin America. It also generated 14.2 million jobs in the region.
The effects of climate change are severe and represented economic losses amounting to US$81,435 million between 1970 and 2008 in the country, according to environmental experts. This situation is of concern for the national productive system, since losses due to natural disasters amount to US$345 million annually, but could rise to US$6,124 million in the next 50 years, according to World Bank projections. Given this outlook, this sector must diversify and meet the Sustainable Development Goals (SDGs) by 2030.
Protecting just one third of the Earth's resources would generate additional income of US$250 billion each year for the global economy. This is stated in the report "Protecting 30% of the planet for nature: costs, benefits and economic implications".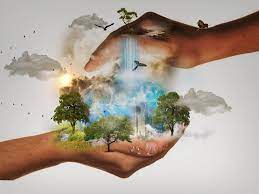 Today, people are more environmentally conscious and environmentally friendly. This transformation in the consumption model outlines new objectives in leisure travel. With this in mind, entrepreneurs such as Quiero Loma, an excursion platform that respects and cares for the natural environment, have emerged.
Its creator, Fari Rosario, says that through eco-tourism people create environmental and cultural awareness, while enjoying the Dominican Republic and living a memorable experience. For example, seeing the humpback whales in Samaná costs RD$3,800 and exploring the Muchas Aguas river in San Cristóbal costs RD$1,800.
For Rosario, this need to rethink tourist attractions respects the socio-cultural identity of the communities and ensures that economic activities diminish their environmental impact.
The development of micro, small and medium-sized enterprises (MSMEs) makes it possible to diversify the national labor market. The country has 1,277,851 productive units that generate approximately 2.2 million jobs. Of this amount, 186,000 companies are linked to tourism, located in tourist centers such as Puerto Plata (6,277 establishments), La Romana (5,722) and La Altagracia (4,834), according to data from the National Association of Hotels and Restaurants (Asonahores).
Since its creation in 2020, Quiero Loma has mobilized 200 visitors through excursions and has had an indirect impact on 500 people. Likewise, the Dominican employed population amounts to 4,308,400.
Of this amount, 8.3% is employed by the Hotels, Bars and Restaurants sector, that is, 359,892, according to data from the Central Bank (CB).
Investments
Although Expedia indicates that 46% of tourists want to be backpackers and 39% are looking for quiet trips, sun, beach and sand tourism continues to be the most attractive in the country. This is evidenced by data from the Ministry of Tourism (Mitur).
In the celebration of the International Tourism Fair (Fitur) in 2023, the country totaled US$3,645 million in investments, this is equivalent to a difference of 182.2% more than in 2022, when US$2,000 million were reported.
According to the minister, David Collado, this money will be used for the construction of new hotel infrastructure, which will provide 3,000 rooms and create 10,000 jobs. Up to December 2022 alone, the country offers 70,941 rooms.
Likewise, foreign investment in this sector is growing. Statistics from the Dominican Republic Export and Investment Center (ProDominicana), show that between 2018 and 2019 there was a slight increase of 16.3%, going from US$854.2 million to US$994.2 million. 2021 closed with US$961.8 million and in 2020 with US$954 million, while during the first nine months of 2022 it totaled US$759.2 million
Revenues
In January 2023, 674,737 tourists arrived, 568,516 of them foreigners and 106,221 non-resident nationals. These passengers arriving by air brought in US$835 million, which is 27.8% more than in 2022 (US$653 million) and US$605 million more than in 2021 (US$230 million). Between 2019 and 2020 it presented a negative variation of 6.9%, going from US$693 million to US$645 million.
Meanwhile, RD$63,406 million were paid in taxes and the country generated US$7,208 million in gross foreign exchange. The Minister of Tourism, David Collado, indicates that attracting 10,000 more foreigners to the Dominican Republic will bring more than 880 new jobs, will create 120 rooms, the State will collect RD$100 million in taxes and US$12 million in foreign exchange. These revenues show that, despite the awareness of human beings to protect diversity, local tourism is consolidated with an all-inclusive offer.
Source: Eldinero.com
Learn more: TOURISM