The joint work between the government and the private sector for the recovery of tourism and the promotion of the Dominican Republic has borne fruit in terms of hotel investment, with the development of new hotels with good future projections since their inauguration, as is the case of the Dreams Flora Resort & Spa.
The hotel, part of the Inclusive Collection chain, part of World of Hyatt, inaugurated on February 15, is located in Cabeza de Toro, Punta Cana, La Altagracia province, and according to its executives, it has already doubled its occupancy projections, exceeding 75% for the month of April alone.
The reopening works during the pandemic and the search for tourists by the Tourism Cabinet, are aspects that the brand praises.
With 700 direct employees, this luxury hotel differs according to Jordi Guillaumet, general manager, in its high level of service, focused on customer service, in addition to having high standards, because "there is no mid-range product".
"The customer values good quality and is willing to pay a little more for it," he said.
In a meeting with journalists Guillaumet, accompanied by Erenia González sales director of Dreams Flora Resort & Spa and Elsa Ramírez, marketing and communications manager of Inclusive Collection, highlighted the attractions that distinguish this new hotel, which have made it exceed projections.
Jordi Guillaumet, general manager of Dreams Flora Resort & Spa, Erenia González, sales director, and Elsa Ramírez, marketing and communications manager of Inclusive Collection.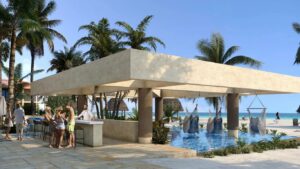 As of now, they highlight as an achievement, having programmed more than 100 weddings by December of this year, which they intend to bring to 200.
The chain has 12 hotels and intends to continue expanding the number of rooms, bringing it to over 7,000 with the opening of other luxury complexes in Miches and Uvero Alto. They are also part of the two chains that will invest in Cabo Rojo, Pedernales.
A hotel for the family
The concept "perfect for the whole family" is one of the attractions of the Dreams Flora Resort & Spa, where adequate spaces for each member of the family converge with luxury, nature and fun, especially for children.
The hotel has 520 rooms, eight dining options, five a la carte restaurants, 13 bars, a water park, a kids' club and a club for teenagers between the ages of 13 and 17, as well as four swimming pools, one of which is for adults only and one for children.
For children ages 3 to 12, the hotel has the Explorer's Club, with a staff certified by the Dominican Red Cross. Activities range from arts and crafts, playground, treasure hunt, game and video game room, children's dinner, among others.
Source: Acento.com
Learn More: HOTELS