The airports managed by the company Aeropuertos Siglo XXI (Aerodom) will operate 14 new routes in the last four months of this year, which will offer more flight options between the Dominican Republic and cities in the Americas and Europe, the company announced on Monday.
The new routes are scheduled to start operating between September and October and will connect Santo Domingo with Mexico City, Cancun and Monterrey in Mexico, Cali, Barranquilla and Cartagena (Colombia), Lima (Peru), San Jose (Costa Rica), Aruba, El Salvador, San Martin, Curacao and Guatemala, through the Arajet airline.
Also to Panama City with the Wingo airline, Aerodom explained in a press release, in which it specified that these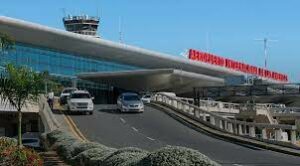 routes will be added to nine others that began operating this year in the airports managed by the companies.
These are Santo Domingo-Medellín (Wingo), Puerto Plata-Frankfurt (Eurowings Discover), Santo Domingo and Samaná-Madrid (Plus Ultra), Santo Domingo-Caracas-Maracaibo (Rutaca) and Santo Domingo-Barranquilla and Cartagena with Air Century.
The airports operated by Aerodom (Las Américas, Gregorio Luperón, Presidente Juan Bosch and Joaquín Balaguer) received 3.4 million passengers between January and July this year, or 9.3% more than those reported in the same period of 2019, the year prior to the pandemic.
"We are delighted to see the continued growth in flights and passengers recorded by our airports, led by José Francisco Peña Gómez Las Américas International Airport," Mónika Infante, general manager of Aerodom, a subsidiary of Vinci Airports, stressed in a statement.
Learn more: TRAVEL