Dominican airline Arajet has taken delivery of its fifth Boeing 737 Max aircraft, the U.S. Embassy in the country announced.
According to the brief statement posted on Instagram, these aircraft acquired from the American company Boeing, represents once again the close partnership between the United States and the Dominican Republic in more than one sector.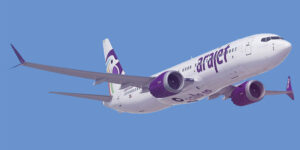 Currently, Arajet flies to 9 countries with the possibility of expanding flight destinations to the US territory, with the signing of the Open Skies agreement between both nations.
Learn More: FLIGHTS