Dominican low-cost airline Arajet transported more than 202,000 people in its first seven months of operation, a figure that places it first in passenger transportation among national airlines, the company informed today.
In April alone, the airline moved 32,191 passengers to and from the Caribbean nation, said Arajet's CEO and founder, Víctor Pacheco, who pointed out that it flies to 17 destinations in 11 countries.
According to figures from the Civil Aviation Board, the domestic company is followed by Sky High with 9,636 passengers and Air Century with 4,924 in the same period.
This company connects Querétaro with several destinations in the region, including Mexico, Peru, Colombia, Costa Rica, El Salvador, Guatemala, Aruba, St. Maarten, Curacao, Ecuador and Jamaica.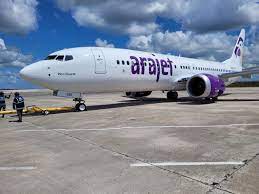 Earlier this month, the Civil Aviation Board announced the incorporation of new Arajet operations to link the Caribbean country with seven destinations in South America: the routes between Santo Domingo and Buenos Aires, Santa Cruz (Bolivia), Asuncion, Montevideo and Santiago de Chile.
Also, between Santiago (second city of the Dominican Republic) with Bogota and Medellin (Colombia).
Last week, Pacheco announced that Arajet is defining its expansion, focused this year on the United States with 17 routes that it expects to open gradually starting in 2023, although the starting date has not yet been defined.
Source: Prensa-latina.cu
Learn more: TRAVEL