Arajet surpasses 75 thousand passengers to Central America and celebrates with low fares starting at $3.00

This promotion is part of the low-fare Vuelatón that Arajet launched to encourage tourism to the destinations to which it flies North, Central and South America and the Caribbean.
Arajet, the first low-fare airline in the Caribbean, surpassed the milestone of transporting more than 75 thousand passengers between Central America and the Dominican Republic, just six months after starting operations.
To celebrate this achievement, the Dominican airline launched a promotion offering $3.00 plus taxes for non-stop airline tickets on new aircraft to and from the Central American countries where Arajet operates, which are Guatemala, El Salvador and Costa Rica. This promotion is a celebration of the success of these routes and as a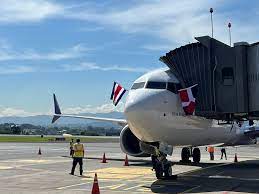 stimulus to continue promoting tourism exchange between the Dominican Republic and these nations.
"In six months of operations, we have managed to strengthen ties and mutual interest in tourism, commercial and cultural development between the Dominican Republic and Central America," said Victor Pacheco Mendez, CEO and founder of Arajet. "Thanks to promotions such as the Vuelatón, we have reached 75,000 passengers between the Dominican Republic and Costa Rica, El Salvador and Guatemala, who have flown on the newest and quietest airplanes in the region, and at the best fares," he said.
Since its launch in September 2022, Arajet has offered direct, non-stop flights from Las Americas International Airport in Santo Domingo to Juan Santamaria International Airport in Costa Rica on Mondays, Wednesdays, Fridays and Sundays; from La Aurora International Airport in Guatemala on Mondays, Wednesdays, Thursdays, Fridays and Sundays; and from El Salvador International Airport on Mondays, Tuesdays, Wednesdays, Fridays, Saturdays and Sundays.
"To celebrate this milestone, from today through March 25, we will offer a promotional fare of US$3 plus taxes and fees to fly roundtrip and nonstop to San Jose, San Salvador and Guatemala," noted Pacheco.
This promotion is valid for travel from April 11 through October 28, 2023 (excluding dates from July 1 through August 15, 2023). We invite our customers to purchase their tickets and learn about terms and conditions at www.arajet.com
About Arajet:
Arajet is the first low-cost airline in the Caribbean region that began operations in September 2022 from its base at Las Americas Airport in Santo Domingo under its Dominican Republic Air Operator's Certificate (AOC). Arajet operates a new fleet of Boeing 737MAX-8 aircraft providing safe and affordable travel to and from the Dominican Republic to 17 destinations in North, Central and South America and the Caribbean region.
Source: Robertocavada.com
Learn more: TRAVEL