Arajet Airlines launched a special offer for this holiday season, offering flights for only $9.99 per segment (taxes and fees included) to the Dominican Republic from Mexico, Colombia and Ecuador.
This promotion is valid only for flights to Santo Domingo from Cali, Barranquilla, Bogota, Cartagena, Medellin, Mexico City, Cancun, Quito and Guayaquil.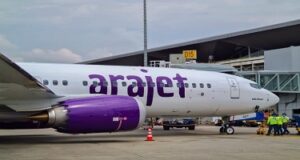 The offer is available for travel from December 22 through December 31, 2022. Fares subject to availability.
Learn More: FLIGHTS