Arajet launched a campaign to boost Colombian tourism to the Dominican Republic with a promotion of only US$5 plus taxes for routes connecting Santo Domingo with Bogota, Medellin, Cartagena and Barranquilla.
The promotion offers a limited number of discounted seats, and is valid for flights from March 27 to October 28, 2023 (excluding the dates March 31 to April 9, and July 1 to August 15, 2023).
With the airline's strategy, it seeks to continue boosting tourist traffic between both nations, where Colombians have positioned themselves in 2023 as the third most important nation for the Dominican Republic as a tourist-sending country.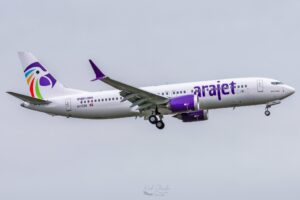 "For four days, from March 16-19, we will offer an incredible US$5 fare exclusively for our customers in Colombia on our website to get to know the Dominican Republic," said José María Alvarado, Arajet's Chief Commercial Officer.

"With the Vuelatón there is no excuse for Colombians not to enjoy their vacations this year, as there is no comparable promotion in the market," he said.
Source: Mitur.gob.do
Learn More: FLIGHTS