Last week saw the inauguration of the Dominican low-cost airline Arajet's Santo Domingo – Cancun flight.
The Santo Domingo – Cancun flight will offer three weekly frequencies, on Tuesdays and Fridays, at 18:40 hours, and on Sundays at 17:20 hours. Flights from Cancun to Santo Domingo are on Tuesdays and Fridays at 21:30 and Sundays at 20:10.
The Dominican company flies Boeing 737 aircraft with capacity for 189 passengers. It has connections from the Dominican Republic to Mexico, Colombia, Costa Rica, El Salvador, Curacao, Guatemala, Jamaica, St. Maarten, Ecuador and Peru.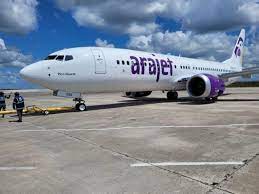 The event to welcome the flight was headed by the Governor of the State of Quintana Roo, Mara Lezama; the Municipal President of Benito Juarez, Ana Patricia Peralta; the Secretary of Tourism, Bernardo Cueto Riestra; the AFAC Commander at Cancun International Airport, Jose Ignacio Carrera Rivera; the Vice President of Marketing and Sales of Arajet, Alvaro de Oleo; the Institutional Relations Manager of Cancun International Airport, Alejandro Rosel Ramirez, among others.
Learn More: FLIGHTS