Mexican Foreign Minister Marcelo Ebrard met with the Minister of Foreign Affairs of the Dominican Republic, Roberto Álvarez Gil, to discuss and review priority issues on the bilateral agenda, such as political relations, economic promotion, tourism and air connectivity.
During the meeting it was announced that the Dominican airline Arajet will begin operations at the Felipe Angeles International Airport (AIFA) on September 22, although the Dominican airline's directors have indicated that it will be on the 15th of the same month.
There will be three weekly frequencies linking Santo Domingo with Mexico City, Monterrey and Cancun.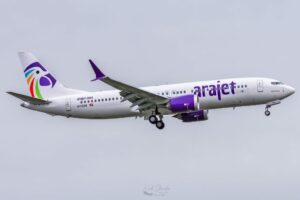 During the dialogue, the importance of Mexico and the Dominican Republic continuing to cooperate in regional development was emphasized. The importance of continuing to collaborate in joint spaces that contribute to the multilateral architecture was also discussed, examples of which are the Latin American and Caribbean Space Agency (ALCE) and the Ibero-American General Secretariat (SEGIB). In the latter organization, Mexico expressed its recognition to the Dominican Republic for its leadership within SEGIB in its work as pro tempore secretariat.
In addition, Minister Alvarez and Mexico's Secretary of Economy, Tatiana Clouthier, signed a Memorandum of Cooperation to establish a working group to develop joint activities to ensure the growth of trade and increased investment between Mexico and the Dominican Republic.
Learn More: Travel