The Dominican airline Arajet inaugurated its direct flights between San José and Santo Domingo, Dominican Republic, after receiving all operating permits from the Costa Rican authorities.
With this, San José joins the more than 20 destinations that already receive the company from Dominican lands.
Initially, Costa Rica will be connected non-stop with Santo Domingo, thanks to four weekly frequencies (Monday, Wednesday, Friday and Saturday), departing from Juan Santamaría International Airport at 10:00 a.m. to Las Américas International Airport, arriving at 3:00 p.m.
BCR offers fixed rate of 7.5% for five years for home purchase
The flight from Santo Domingo to Costa Rica will depart on the same days at 8:15 a.m. and will land on national soil at 9:15 a.m.
"For the Costa Rican Tourism Institute and for the sector in general, the start of operations of the airline from Santo Domingo, Dominican Republic is of utmost importance.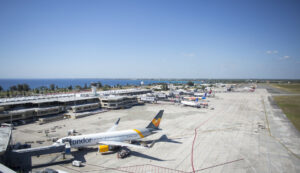 "There is an important market to and from the island, where tourism, family and business travelers are combined. It also opens up countless possibilities for further connections with many destinations in the Caribbean, which we are sure will strengthen Arajet's operations to our country," said William Rodríguez, Minister of Tourism.
For his part, Victor Pacheco Mendez, president of the airline, said that "Costa Rica is the destination with more frequencies and number of seats that we are serving. We seek to strengthen commercial, tourism and cultural ties, as well as to promote economic development opportunities between the two nations".
"We want more Costa Ricans to come and learn about our country's tourism offerings and more Dominicans to discover every corner of Costa Rica, traveling non-stop and with really low prices," he added.
The Dominican Republic has a population of more than 10 million inhabitants and is the leading tourist destination in the region, due to the diversity of activities it offers its visitors. Its tropical beaches include Boca Chica, Bayahibe, Punta Cana and Samaná.
Learn More: FLIGHTS