Flights arriving at Punta Cana International Airport (PUJ) continue to show recovery this October 2022, with 377∗ arrivals scheduled for this October week (10 to 16/10), repeating for the second consecutive week the positive trend despite the negative effects left by the Fiona phenomenon.
Specifically, 5 more flights are expected for this week than last week (from 3 to 9/10), when 372∗ arrived and, about 39 flights more than the week (26/9 to 2/10) when 364∗ were received. In addition, this figure was repeated the week of 19 to 25/9, which was the period where the downward trend that had been occurring since early August of this 2022 was reversed.
Tourist arrivals through Punta Cana up to September
According to the latest update provided by the Ministry of Tourism through its SITUR statistics portal, as of September 25 of this 2022, some 3,040,179∗∗∗ foreign tourists entered through the Punta Cana air terminal.
Of these, 239,939 arrived in January, 316,672 in February, 376,988 in March, 372,951 in April, 337,957 in May. Since June there has been a great upturn in arrivals with 362,732 tourists and July was the record month of the year with 418,295 international travelers.
August was the low month with 358,399 arrivals and in September, up to September 25, 202,246 tourist arrivals were received.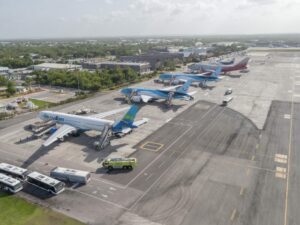 Seasons are ahead of schedule
As we have been reporting, this year's low season was brought forward to August, but it is noticeable that this October the trend is beginning to reverse and the numbers of flights and reservations to our hotels are increasing.
This is a very important data that marks the turning point, since October marks the end of the low season and, from here, positive numbers will start to be seen until November, when many assure that the high winter season will start strong, which, according to dynamics, will be advanced by 2 weeks this year 2022.
Total number of tourists to the Dominican Republic in 2022
As far as total annual arrivals to the Dominican Republic are concerned, from January to September of this year 2022, some 5,334,291 tourists arrived by air, surpassing the 3,303,745 of the same period of 2021 and the 1,743,480 of 2020. Also surpassing the 4,987,698 of 2019 and the 5,009,417 of 2018.
Of these 5,334,291 tourists arriving through September, 4,346,145 were foreigners and some 988,146 were Dominicans residing abroad.
∗ Official figures Eastern Airport Corporation (Punta Cana Airport).
∗∗ Official figures Ministry of Tourism through its SITUR panel.
Learn More: FLIGHTS