Guatemala for the first time has a direct flight from the Dominican Republic with the inauguration of an air route that will connect both countries non-stop. This advance is described as "historic" by local authorities.
The flight, with 178 passengers, arrived at La Aurora International Airport in Guatemala, coming from Santo Domingo, Dominican Republic. This according to the Government.
The General Directorate of Civil Aeronautics assured through its communication channels that "today we are witnesses of the history of Guatemalan aviation". This with the direct flight between both countries, "low cost and non-stop".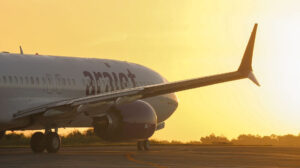 The route that will connect the Central American nation with the Caribbean is operated by the Dominican airline Arajet, with Boeing 737 Max aircrafts for 185 passengers.
Flights between Guatemala and the Dominican Republic
Flights between the two countries will be carried out with a frequency of twice a week. This follows an Arajet agreement with Guatemala and the Dominican Republic signed last June 1.
The Government indicated in a press release this same Wednesday that the new route has as its "objective" the possibility of "boosting tourism and business".
According to local media, the recently inaugurated route takes approximately three hours and costs approximately 200 dollars.
Guatemala received in 2021 a total of 666,017 tourists, a figure still far from the one presented by the Central American country before the pandemic in 2019, when it registered just over 2.5 million visitors.
Learn more: TRAVEL