Here are some questions about JetBlue's five days of anniversary offers
U.S. airline JetBlue announced this Tuesday five days of offers for the celebration of its 23 years of service and today shared a series of clarifications about the special offers, vacation packages and exclusive promotions it will launch until Monday, February 13.
Here are some of the doubts raised by the company's announcement and, as a preview, the offers extend to all of the airline's destinations, including, without a doubt, the Dominican Republic.
1. Is it possible to buy a flight for a future date or only to fly on the dates of the offer?
In response to this question, JetBlue indicated that the promotional codes are valid from February 7, 2023 until 11:59 a.m. on February 13, 2023, for travel between February 24, 2023 and December 31, 2023. For more information, the airline recommended consulting the Birthday Promo web page.
2. How does the $600 voucher work?
For clarification, it is not a "rebate," says the U.S. carrier.
Customers will get $600 off the vacation package if they spend $7,000, it explained in a statement.
"Save big on flight + hotel and flight + cruise packages if you book by Feb. 13 for travel between Feb. 24 and Dec. 31, 2023.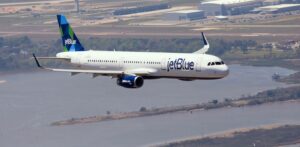 $25 off $500 or more with promo code BDAY25.
$200 off $3,500 or more with promo code BDAY200
350 off over $5,000 or more with promo code BDAY350
600 off over $7,000 or more with promo code BDAY600
3. What are the daily deals?
Each day this week, JetBlue will launch a special offer, from special fares, vacation packages and even special promotions on Paisly, its travel booking website, which also offers TrueBlue points on cars, stays and activities.
This Wednesday's offer is for JetBlue cards, with which customers can earn double points on eligible purchases with their card, up to $2,000.
4. Do these offers include flights to and from the Dominican Republic?
For the rest of this week and next Monday, JetBlue will be launching rebates that apply to all of its markets, including the Dominican Republic.
If you are interested in the offers and promotions the airline is offering, you can visit their Birthday Promo webpage by clicking here.
Source: Espaciodeprensa.com
Learn More: FLIGHTS