This Thursday, the new Wingo flight between Santo Domingo and Panama will take off with a frequency of two flights per week, operated on Thursdays and Sundays.
This will be the first time a low-cost airline offers this route, which will land at Panama Pacifico Airport, located just 15 minutes from downtown Panama City and close to the Rio Hato hotel zone.
In total, Wingo, as a low-cost airline, has made available to Dominicans close to 3 thousand seats per month between both routes. The flights will be operated in modern Boeing 737 -800 Next Generation aircraft, which have a capacity of 186 passengers. Fares for this route are marketed from USD 103 each way.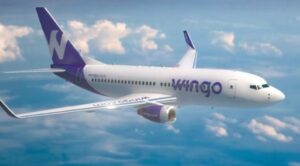 With this takeoff, Wingo now has five routes in the Dominican Republic, which demonstrates the importance of this market for the airline. In addition to this recently inaugurated route, Wingo offers flights to Medellin and Bogota from Las Americas International Airport in Santo Domingo and from Punta Cana International Airport.
"We are celebrating a new milestone in our operations in the Dominican Republic, specifically in Santo Domingo, with the inauguration of our third route to Panama. With the five routes we now offer in this Caribbean country, Wingo offers more than 40 flights a week, which represents about 35 thousand seats per month for travelers interested in visiting the country, as well as for Dominicans who wish to travel to Medellin, Bogota or Panama at a low cost. Our commitment to this territory and to continue contributing to its development and economy will continue in 2023," said Jorge Jiménez, Wingo's Commercial and Planning Director.

"We are happy and proud to be able to offer this new route to Panama with Wingo. This new operation will support the growth of passenger traffic at our airports and brings us closer to the goal of transforming our country into a new regional hub that provides travel opportunities to multiple destinations," added Mónika Infante, CEO of AERODOM.
Learn More: FLIGHTS