Although the star plan is to toast in the sun in fabulous hotels, this Caribbean corner offers much more: walks through the jungle, dancing bachata on an idyllic island or discovering a Mediterranean villa of the sixteenth century.
It may be because of the fascination of its postcard-perfect landscapes or its summer days in the middle of winter, or simply because life is more beautiful when it is cheerful and tasty. It may be because of all these attributes that the Dominican Republic has the highest degree of happiness in Latin America. This is confirmed by a study that evaluates not so much the parameters of well-being as other traits, trends and factors more related to the modus vivendi.
On the face of it, the height of happiness, rather than in the CPI or in the basic salary, may be found on an endless beach in Punta Cana, that strip of land in the far east of the country that tourism took hold of just five decades ago. Perhaps the ultimate wellness can be achieved on the shores of these turquoise waters that are among the most beautiful in the Caribbean, on the languid swaying of a hammock and with no more effort than sipping a piña colada.
The Dominican Republic has the highest degree of happiness in Latin America.
That's what the luxury resorts with their fabulous all-inclusive packages are for. Hotels like TRS Turquesa Hotel where, as in a dream, you can find what you need. It's all a matter, as they say, of asking for it through that little mouth, which for some reason even has a personal butler service, 24 hours a day, aimed at satisfying guests' desires.
Infinite indulgence
Located on the famous Playa Bávaro, a 20-kilometer-long white sandy beach lined with coconut trees and caressed by a crystal-clear sea, this adults-only luxury hotel is the place to stop time and surrender to pleasure with all five senses. Or, in other words, to that Infinite Indulgence that its slogan proclaims.
And the truth is that there is plenty to choose from. In its 32 hectares (access is also allowed to neighboring hotels of the Palladium Hotels & Resorts group) there are not only seven swimming pools, tropical gardens, a gym and a wellness center called Zentropia with hydrotherapy area, steam bath, sauna, Turkish bath and rooms for special treatments. As if that were not enough, it also has a whopping 14 restaurants and 24 bars.
From La Bohème and its sophisticated French gastronomy, to Kusko, with its Nikkei cuisine (Japanese-Peruvian fusion), to Helios, with its Ibizan inspiration, or the Argentinean grill at La Paisana, at TRS Turquesa Hotel you can travel around the world with your palate. And even with a full stomach, rest will be perfect in its magnificent rooms and suites, all with whirlpool tubs, among which stand out the Romance Swim Ups (a kind of bungalows with private pool), or the Jacuzzi Terrace Suite Beachside (with terrace equipped with Balinese bed and direct access to the beach).
From jungle to treasure island
But even if indulgence wins the battle for not wanting to leave the resort, Punta Cana does not end at its infinite beach. There is life beyond tumbing and from the hotel itself you can check it out through some excursions with which you can immerse yourself in all the magic of the tropics.
One of them, wonderful, is the walk through the jungle in the ecological reserve Ojos Indígenas. More than 600 hectares of forest in which the twelve lagoons of crystalline waters give name to the protected park: for the aborigines, because of their peculiar shape, they were the eyes of the jungle. There are also springs, bizarre plants and native species of fauna, all crossed by marked trails that can be approached on horseback. And there is, of course, no shortage of freshwater dips.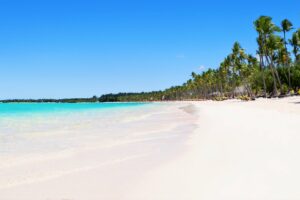 But those who want to know the archetype of paradise have to approach Isla Saona, the place that could well have inspired the Whatsapp emoticon we use to show exoticism. There is no greater pleasure than to bathe in its warm emerald waters and then seek shade among the palm trees of its pristine beaches. Little more (and little less) can be done, besides gorging on tropical cocktails, tasting the freshest lobsters or loosen the hips to the beat of bachata that is poured at full volume from the beach bars, and that will continue later aboard the catamaran on a return trip that, as the canons of the Caribbean, becomes a party.
A little bit of urbanism
Because not everything is going to be nature, another good plan is to discover Altos del Chavón. Stroll through cobblestone streets, let yourself be tempted in quaint stores or leisurely browse art galleries. All this is possible in this village built entirely of wood and coral stone. A place that was born in a peculiar way when it was necessary to dynamite a mountain for the construction of a road. It was then decided to take advantage of the discarded material and use it to build a replica of a 16th century Mediterranean village.
Lovers of seamless luxury will find their space in Casa de Campo, the tourist center of La Romana.
Today, Altos del Chavón, which rises above the river of the same name that twists through the jungle, is not only a mere showcase but a space full of life with an undeniable artistic veneer. A prestigious design school, two museums (amber and archeological) and a superb Greek-inspired amphitheater with a capacity for 5,000 spectators are a good example of this. The latter, by the way, was inaugurated by Frank Sinatra and has seen the likes of Sting, Elton John and Julio Iglesias.
Lovers of luxury without fissures will find their space in Casa de Campo, the tourist center of La Romana where the highest level of facilities rest: golf courses, tennis and polo courts and restaurants that maintain high quality standards. All this in a privileged environment, with lush beaches such as Minitas and a charming marina, inspired by the Mediterranean coast, where you can dine under the stars overlooking prohibitive yachts.
And to top it all off, a little nightlife. Like the one that takes place at Chic Cabaret & Restaurant, which is much more than a dinner show: located within the TRS Turquesa Hotel complex, what we find here, in addition to a gastronomic feast with a gourmet menu and unlimited premium drinks, is a show lasting more than three hours: 30 tireless artists on stage (singers, dancers and acrobats) manage to conquer the audience with their amazing numbers. Afterwards, the party continues with a DJ to keep the rhythm going in Punta Cana.
Learn More: DESTINATIONS