Sky Cana continues to make history in Dominican civil aviation with its second Airbus A330 in operation.
Sky Cana, a purely Dominican airline company, received its new Airbus A330-300 aircraft this afternoon at the Gregorio Luperón International Airport (AIGL) in Puerto Plata.
Gregorio Luperón -AIGL- Puerto Plata, which serves the north coast of the Dominican Republic, with the livery "Go Dominican Republic" and baptized with the name "Dr. Frank Díaz Domínguez".
Frank Díaz Domínguez", father of the C.E.O. of the company. The aircraft was received by Frank Diaz CEO of Sky Cana, accompanied by the main authorities of Aerodom, hoteliers, civil and military officials of the region and members of the press.
The modern Airbus A330-300 aircraft, with Maltese registration number 9H-SMI, has a capacity of 377 seats in economy class with a range of 11 hours of flight time, Rolls Royce Trent engines and, as we mentioned before, will be able to provide services from Puerto Plata to Europe, South and North America. It is the first Dominican airline to operate an aircraft of this category.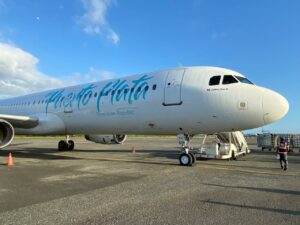 Frank Diaz, C.E.O. of Sky Cana, announced that this is the second Airbus A-330 aircraft, acquired under an agreement with Sky Cana.
A-330, acquired under a commercial agreement in the "Wet Lease" modality with SmartLynx Airlines. It is a privately owned Lithuanian airline based in Riga, Lithuania, operating passenger flights throughout Europe, Africa, Asia and now in the Dominican Republic, as well as business and VIP charters. Its main base is at Riga International Airport.
"We are currently closing negotiations to supply the need for seats for the upcoming 2022-23 winter season, which looks to be very promising," said Frank Diaz, C.E.O. of Sky Cana, who was accompanied by the airline's top executives at the Gregorio Luperon International Airport terminal.
Sky Cana is making history by implementing new paradigms and business styles, formed by a group of renowned professionals from all areas of the aviation industry, being the only company with 100% Dominican investment capital that operates aircraft with a capacity of more than 150 passengers in the country.
Learn More: FLIGHTS