Sky High Dominicana was present at the 18th edition of the ALTA AGM & Airline Leaders Forum, the flagship event of the Latin American and Caribbean Air Transport Association (ALTA), which was held in Buenos Aires between October 16 and 18, and we were able to learn about the company's plans for the near future.
The airline was founded in 2012 with a fleet of turboprops, including Jetstream 41s and several Beechcraft. They started offering tourist flights from Punta Cana, and is currently the largest company in the Dominican Republic by serving 14 destinations in the Netherlands and French Antilles, Lesser Antilles, Venezuela and, soon, the United States. In addition, they operate several charter services to Jamaica, Cuba and Nicaragua.
Since 2018, Sky High has two Embraer ERJ 145s with capacity for 50 passengers and, in mid-2022, incorporated two Embraer 190s with 97 seats. The high demand for its charter operations, which represents 50% of its operations, and its progressive expansion generated the need to incorporate two additional E190s and two ERJ 145s.
"We started with two Embraer 190s, but it has been such a big and broad upturn as we opened new routes and charter services, that we realized we are going to need two 190s and two 145s for small and charter operations," Cesarina Beauchamp, Commercial Director of Sky High Dominicana, told Aviacionline.
Beauchamp also said that they are studying the acquisition of two Embraer 175s in 2023 for regional routes. In reference to the E2, the commercial director did not rule out the possibility of acquiring the new generation of E-Jets in the future, noting that it is the only E190 operator in the Caribbean.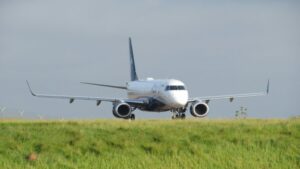 Next destination: the United States and Jamaica
According to data obtained by Aviacionline through the Dominican Republic Civil Aviation Board, between January and September 2022 Sky High carried 40,645 passengers, a growth of 22.46% compared to the same period in 2019 and 250% compared to 2021.
Over the course of 2022, the company landed in Venezuela and Cuba, but also expects to inaugurate services to Miami (MIA), USA, and Kingston (KIN), Jamaica, with one daily and two weekly flights respectively.
The company recently received authorization from the CAB to open new destinations in the United States. In conjunction with the approval and the acquisition of additional Embraer aircraft, the commercial director revealed that Boston (BOS) will be the second destination to open in the United States and, in a third stage, Tampa (TPA). Both destinations will begin marketing during the first quarter of 2023.
Beauchamp highlighted the Dominican diaspora in Boston, which moves more than 350,000 passengers between the Dominican Republic and the United States. The company has more than a dozen regular destinations from Santo Domingo/Las Americas (SDQ), in the Caribbean and South America, and charter flights from Cuba to Jamaica and Nicaragua.
Learn More: TRAVEL