Dominican airline Sky High Aviation Services expects to expand its network to 15 destinations in Venezuela, the United States and the Caribbean starting in September.
To this end, the airline has scheduled flights between Santo Domingo and Valencia as of September 1, the company's fourth destination in Venezuela, complementing its operations in Caracas, Maracaibo and Porlamar.
Passengers on the new route will have the option of onward connections to Miami and other destinations in the airline's network.
Flight Itinerary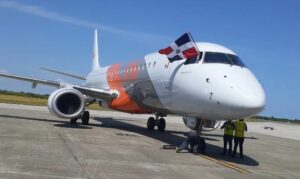 Santo Domingo – Valencia Flight DO 720SDQ 14:00 – VLN 15:30 Thursday and Saturday.
Valencia – Santo Domingo Flight DO 721VLN 17:00 – SDQ 18:30 Thursday and Saturday.
Flights will be operated on Embraer ERJ 145s with a capacity of 50 passengers in single configuration and promotional fares are available from USD 203 one way.
Sky High will be the second international carrier to offer non-stop services at Arturo Michelena International Airport, where it will compete on its new route with Turpial Airlines, which offers two destinations in the Dominican Republic.
It is recalled that the Dominican Republic is one of the most popular countries for Venezuelan travelers to make stopovers to other destinations in the United States, Canada and Europe. According to data from the Civil Aviation Board (JAC), Valencia is the second busiest Venezuelan destination in the Caribbean country.
Learn more: FLIGHTS