Arajet, the Caribbean's low-fare airline, launched on Labor Day the AFTER WORK promotion with a US$5 fare (excluding taxes, fees and transportation charges) to visit the Dominican Republic until March 2024.
"We celebrate workers in the region by giving them the opportunity to travel, get to know new destinations and reconnect with friends and family at a sensational fare" said Victor Pacheco, CEO and founder of Arajet. "We invite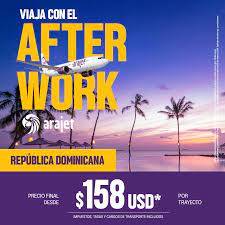 all Peruvians to come to the Caribbean and visit the Dominican Republic with Arajet's low fares, flying in new airplanes," he assured.
The final prices of the AFTER WORK promo tickets in Peru are:
Peru (LIM): Final Price From $158USD each way. Includes taxes, fees and transportation charges.
The AFTER WORK promo is available for purchase from May 03 to May 05, 2023, and for travel from June 02 to March 03, 2024. Terms and conditions apply.
About Arajet:
Arajet is the first low-cost airline in the Caribbean region that began operations in September 2022 from its base at Las Americas Airport in Santo Domingo under its Dominican Republic Air Operator's Certificate (AOC).
Arajet operates a new fleet of Boeing 737MAX-8 aircraft providing safe and affordable travel to and from the Dominican Republic to various destinations in North, Central and South America and the Caribbean region. For more information, visit www.Arajet.com.
Source: Turismo360.news
Learn more: TRAVEL