The vehicle brand CHERY, leader in technological advances, reliability, quality and sales; manufactured in China, makes its entry into the Dominican Republic, within the framework of the vehicle fair, Expo Móvil Banreservas.
CHERY Dominicana arrives in the country and is represented by the automotive experience of its dealer AutoTranding del Caribe, a Dominican company with offices in Punta Cana.
The executives of the CHERY brand decided to participate and present their first models in the framework of the vehicle fair Expo Móvil Banreservas, a banking institution with which they have established financial cooperation agreements, so that people interested in acquiring one of the TIGGO models, can do so through the financing plans of this banking institution, and their models will be offered, with introductory prices to the market, from US$26,900 or RD$ 1,466,050.00 approximately.
Through a virtual press conference, headed by Mr. Charlie Zhang, Vice President of CHERY International and with the participation of the Ambassador of the Dominican Republic in China, His Excellency, Mr. Briunny Garabito, the official presentation was made in the Dominican Republic.
They introduce three types of vehicles in the first phase with: Tiggo 4, Tiggo 7 pro and Tiggo 8 pro, SUV type models or known as "yipeta".
The new Chery Tiggo 4 is an SUV that comes to give a twist to the category.
TIGGO 4 inherits H.D.S. Modeling from Chery Design. The creative design of the body line vividly portrays the intelligent body of the TIGGO 4, which perfectly interprets Chery's new design concept of "Life in Motion".
1.5 L high-performance engine, Max torque 180 nm / 4500 rpm.
This naturally aspirated engine features quick throttle response, stable starting, stable power output when changing rpm, simple mechanical construction and low maintenance cost.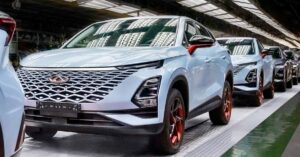 Chery Tiggo 7 Pro
Under the hood of the Chery Tiggo 7 Pro is a new 1.5-liter turbocharged inline 4-cylinder gasoline engine with figures of 145 bhp and 162 lb-ft of torque. It is mated to a CVT 7-speed transmission, replacing the previous model's dual-clutch transmission. There are other crossovers with more athletic throttle responses and firmer steering, but as an urban vehicle, the Tiggo 7 Pro is a comfortable and very capable ride.
The Chery Tiggo 7 Pro adopts a new aesthetic approach intercedes the new Matrix All-LED headlights that provide three times more illumination than halogen lights.
On top, an integrated luggage rack is installed that can carry up to 50 kg.
18-inch alloy tires. The flowing lines continue at the rear, which now features a light bar connecting the taillights.
Tiggo 8 PRO
The Tiggo 8 PRO is designed to captivate, as it features the new design of the LIFE IN MOTION 3.0 family, with a large and imposing grille, as well as an elegant, luxurious and technological interior.
The Tiggo 8 Pro is powered by a 1.6-liter turbocharged gasoline direct injection (TGDI) engine connected to a seven-speed dual-clutch automatic transmission that drives the front wheels. The combination enables the SUV to accelerate to 100 km/h in 8.9 seconds, reach a top speed of 185 km/h and consume fuel at a combined rate of 7.0 l/100 km.
The SUV comes with three driving modes: Normal, Eco and Sport.
The T1X platform has improved headroom for the front and rear seats and increased ground clearance. The approach and departure angles also ensure better off-road performance.
They assure that all three models have spare parts distribution through commercial alliances concentrated in the capital, as well as a service and maintenance center for the vehicles.
The warranty is 100 kilometers or five years, within the services offered by the CHERY Dominicana brand.
About CHERY
Through continuous innovation and investment in research and development for the creation of new technologies, CHERY has established R&D centers in China, Germany, the United States and Brazil.
It has also established a global automotive R&D team of more than 5,500 people, thus gradually establishing the holistic technology and product R&D system.
In this way, Chery has successfully created product brands such as Arrizo, Tiggo with accumulated global sales of more than 9 million units.
Learn More: AUTOMOBILE