The different types of visas, residences, and naturalization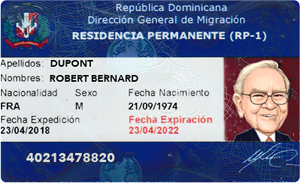 If you are planning to settle in the Dominican Republic, be advised that it is no longer possible to enter the Dominican Republic as a tourist and then apply for residence.
If you wish to obtain residency in the Dominican Republic, you must first get a Residence Visa, the RS VISA, from your home country. From your home nation you may apply to the Dominican Consulate of your choice. This visa is valid for one entry only.
Once in the Dominican Republic, you will have 60 days to submit your residency application to the General Directorate of Migration (DGM).
The visa application must be made well in advance since the consulate's response is usually given within one month.
Similarly, it is preferable to begin the residency application process at DGM as soon as you arrive in the country so as not to exceed the 60-day limit.
The four types of Visa
There are four types of Visa to enter the Dominican Republic.
Family Grouping Visa: For married couples whose wife or husband is Dominican with minor children.
Retiree Visa: For retirees with pensions over US$ 1,500 per month.
Investor's Visa: For investors whose investment exceeds US$ 200,000.
Annuitant Visa: For people living with annuities over US$ 2,000 per month.
In the last two cases, applicants will receive permanent residence directly.
Obtaining Residence
The different types of ordinary residence:
Temporary residence: It is the first residence acquired. It is renewable every year for five years, after which it is possible to opt for permanent residence.
Permanent residence: Permanent residence is possible after four years of temporary residence. The first card has a duration of two years, and the next ones are renewable every four years.
Definitive residence: Can be obtained after ten years of permanent residence.
Obtaining Dominican nationality
Dominican nationality can be obtained by:
Ordinary naturalization: After two years of permanent residence in the country.
Naturalization by marriage: Persons married to a Dominican can choose the nationality of their spouse six months after marriage.
Naturalization through investment: For persons who have made a significant investment in the Dominican Republic.
Dominican naturalization is a process that takes about one year in total.
Renewal of your Residence
Depending on the type of residence, if you have been granted Temporary Residence, for example, it is renewable every year for five years. It may also be subject to a category change. Again, pay attention to the procedure and find out about the cost of the realization.
Last update: October 2022.
Ask your questions, consult with professionals
To facilitate your steps for advice your contact in the Dominican Republic :

Sylvain MAUFRAIS has operated in the Dominican Republic since 2003 and has specialized in the installation of families, pensions and pensioners, financial investments, investments, and real estate purchases during these many years.
Sylvain MAUFRAIS is President of AGIREDOM (Real Estate Agency Dominican Republic) but also President of the ACOM CARIBBEAN Communication Agency.
If you wish to initiate a successful installation or investment please contact us.
Portable : (001) 809 803 0271 (WhatsApp)
Email : [email protected]
LinkedIn : http://www.linkedin.com/pub/sylvain-maufrais/20/b00/411
Facebook : https://www.facebook.com/agiredom/
Diploma of Expertise in Processing of Visas and Applications of Dominican Residence
I was awarded this Diploma by the Dominican Group of Legal and Commercial Training Educajuris (Registration Number NºSTGOMA-20191407-00).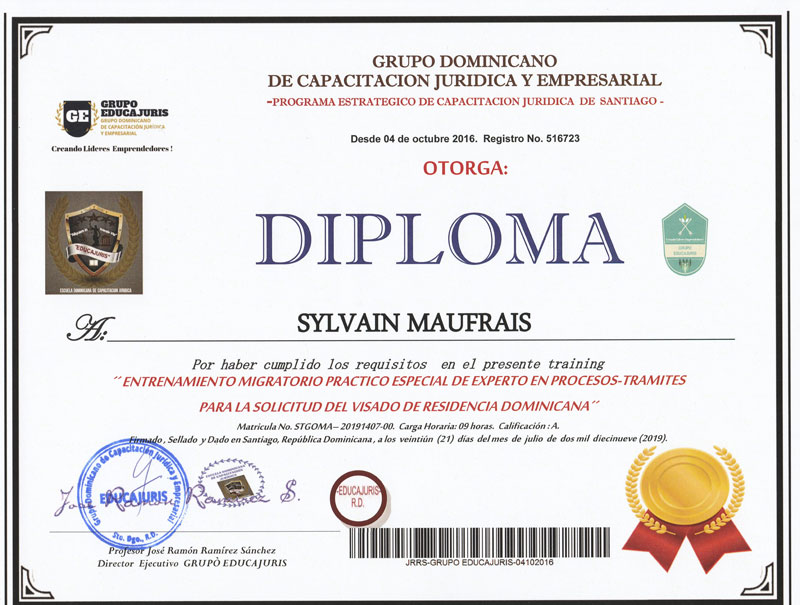 For Dominicans, visit our website Visas GO! special Visas for foreign countries
You can also visit the website Visas GO! in Spanish and concerning all Visas available for Dominicans wishing to travel abroad but also countries where Dominicans can travel without a Visa.
We carry out visas for the United States, Russia, Australia, England and all Schengen countries such as France, Germany, Spain, Italy, Switzerland, Sweden, Belgium, the Netherlands, etc.
Again, for any information, you can contact us via the website Visas GO!
---
By the same author: