The Banco de Reservas (Banreservas) and the Ministry of Tourism presented today in Madrid the Punta Bergantín tourism project, to be developed in the coastal province of Puerto Plata, in the Dominican Republic, which will have among its main attractions a film studio run by an international company headed by actor Vin Diesel.
Within the framework of the International Tourism Fair (Fitur 2023), the ambitious project was presented to investors and owners of hotel chains, with which the Dominican Government seeks to relaunch tourism in Puerto Plata, a province where tourism development in the Dominican Republic began in the 1970s.
Samuel Pereyra, general administrator of Banreservas, explained that Punta Bergantín will have 6,760 hotel rooms, as well as 13,705 residential rooms and an academic campus aimed at promoting education and innovation in the country.
The first stage of the project is expected to begin in 2023, with the construction of 700 hotel rooms in an area of 2.76 million square meters.
Pereyra announced that Banreservas will evaluate and support, through credit solutions, interested national and foreign investors.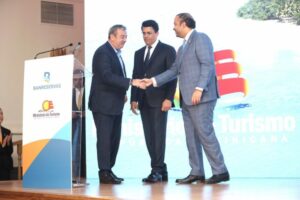 "Since 2021, we have been working on this initiative, conducting the required technical and commercial studies, and thus determine that it is viable to build and commercialize there, and in what
proportion to do so," he said.
The presentation ceremony of the tourism initiative was held at the Real Casino de Madrid, which was also attended by representatives of the press, banking executives and leaders of the Dominican community in Spain.
The project is promoted as a combination of sun, beach, cinema, technology and innovation. During her presentation, the Vice President of the Republic, Raquel Peña, revealed that in this project she will be able to realize a project of hers, which she has been conceiving for about eight years, that combiPunta Bergantín is 17 minutes from the Gregorio Luperón International Airport, 23 minutes from Puerto Plata, and close to the cruise ports of Amber Cove and Taino Bay.
Air demand
Andrés Marranzini, executive vice-president of the Association of Hotels and Tourism of the Dominican Republic (Asonahores), noted that the private sector is aware of the air component involved in the announced installation of thousands of rooms in Punta Bergantín. He added that the challenge of this air flow is accompanied by a component: the Cibao.
He indicated that, from the perspective of the private sector, they see the Cibao region as a great cluster, since they are the potential buyers of this project and because of the connectivity of the "amber route".
Source: Mitur.gob.do
Learn More: DEVELOPMENT