The real estate marketing company OB Marketing Advisor represented real estate tourism in the Dominican Republic at the renowned A Place in the Sun fair, which took place at The NEC, Birmingham, United Kingdom.
During the fair, the Cana Rock real estate project was exhibited, located in Punta Cana, an exclusive real estate project that promises to be the most profitable for homeowners in the Caribbean, with a high annual profitability. It has apartments aimed at those seeking tranquility and exclusivity for all types of public.
At the fair, the characteristics of the Cana Rock residences were presented, which include the Hard Rock Golf Course, one of the most spectacular golf courses in the region, designed by Jack Nicklaus, considered the best golfer in history.
A Place in the Sun Live London is the largest exhibition of the year with over 5,000 square meters of exhibition space in a prime location in central London. It showcased a wide variety of overseas real estate agents with thousands of properties.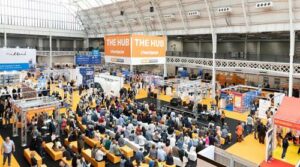 Also on display were service companies that can provide expert advice on legal, tax, health, financial, currency transfer and real estate relocation matters.
OB Marketing Advisor is a company specialized in advertising services, photography, audiovisual production, social media marketing, branding, promotional billboards and ads on giant screens, such as those seen in New York's Times Square.
The London show is characterized as the most popular exhibition and the event had a high quality consumer audience of around 7000 visitors over three days.
Among the many benefits that were offered by the OB Marketing stand were free advice from lawyers, tax experts and an in-house foreign exchange team with the most up to date information available.
Learn More: EVENTS