Cap Cana Destination City: It's time to reinvent and diversify the Dominican tourism offerings
On the occasion of the commemoration of World Tourism Day, whose motto is "rethink tourism", the Cap Cana Destination City joins this celebration, stressing that it is necessary to reinvent new forms of tourism in the country and diversify each of the offers that are currently offered.
Through a press release, the executive president of Cap Cana, Jorge Subero Medina, said that it is increasingly evident the growth and interest of national and international tourists to discover every corner of the country and stressed that following the change of preferences of people around the world, due to the impact of the various crises in recent years, there is a large percentage who have decided to change their lives, adopted real estate tourist areas as their first home.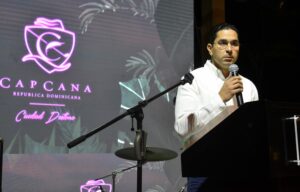 "Because of this, now is the right time to rethink tourism as highlighted by the World Tourism Organization. Attracting more tourists to the country brings with it a new challenge and that is that in addition to enjoying our beaches we can offer a second or even first home to these visitors, with a unique, different lifestyle, with a variety of complementary offers, culture, gastronomy, fun, artistic spaces, parks, wellness, contact with nature and the environment, peace, security and adventures without losing sight of the particular interest of each of these audiences," he said.

"We open our arms to other cultures and also to those in our country who still do not dare to know all the corners that embellish us and make us unique. We await them all with joy, to inject them with a little of our energy, and of the magic that is hidden in every tourist destination of the Dominican Republic," he concluded.
Subero took the opportunity to congratulate the central government, through the Cabinet of Tourism, who have designed and promoted the necessary and correct policies so that today, as a country, we are one of the most visited destinations worldwide, setting historical records in monthly tourist arrivals and significantly activating the national economy.
Learn More: NEWS