Local capital outflows totaled US$152.9 million in 2021. Inflows totaled US$3,197 million
The Dominican Republic experienced a record year in 2022, considering that it surpassed the US$4 billion barrier in terms of foreign direct investment (FDI). The figures come at a time when this item decreased in most countries, according to a report by the Economic Commission for Latin America and the Caribbean (ECLAC). The average island registered an inter-annual growth of 25.45%.
Thus, the Dominican Republic entered the top 20 emerging markets that are most attractive for attracting foreign capital inflows. This was revealed by the Kearney Foreign Direct Investment Confidence Index 2023. The Caribbean nation is positioned just below Peru and Colombia.
Some of the sectors that concentrated these foreign currencies were tourism (US$1,011.1 million) and energy (US$753.8 million), by countries such as the United States (US$1,520.9 million), Mexico (US$394 million) or Canada (US$366 million).
However, when it comes to foreign direct investment outflows, the Dominican Republic is among the countries with less money outside its borders. Although the Export and Investment Center of the Dominican Republic (ProDominicana) does not detail where Dominican investors put their money, the World Bank provides figures. It notes that the country invested just over US$152.9 million abroad in 2021.
That amount ranks among the lowest in the region, only above Bolivia (US$91 million), Paraguay (US$15 million), Nicaragua (US$13 million) and Belize (US$1 million). While Ecuador does not have available data, in the case of Panama, it registers capital losses of more than US$285 million.
Dominican investments
As detailed by the U.S. State Department, there are no legal or governmental restrictions on Dominican investment abroad in the country. In spite of this, "the government does little to promote it", they point out.
In this regard, they indicate that outbound foreign investment is significantly lower than inbound, and the largest recipient abroad is the United States. However, the data from the U.S. Bureau of Economic Analysis does not show the exact amount of Dominican business in that nation.
In fact, although they detail the investments of "The British Isles and the Caribbean", the latter does not include the Dominican Republic, but is composed of "British Virgin Islands, Cayman Islands, Montserrat, and the Turks and Caicos Islands", which had investments over US$116,392 million in 2021. "Other" Latin American nations, barely accounted for US$11,717 million.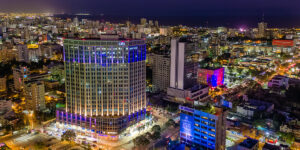 Where exact figures of investments by Dominicans abroad can be visualized is in Panama, where according to data from that country's Institute of Statistics and Cenco (INEC), in 2021 alone, businesses of Dominican origin accounted for revenues of B$451,661 balboas or US$451,660.
Some of the local companies in that nation are Grupo MARTÍ, which is a dealer of Volvo automobiles. Grupo Estrella, on the other hand, carries out multiple infrastructure works in Central America and the Caribbean, among them the reconstruction of streets in Panama City.
Latin America and the Caribbean
According to ECLAC data, in 2021, capital outflows originating in FDI income represented 2.1% of the region's gross domestic product (GDP), a higher value than in 2020 (1.9% of GDP) and similar to pre-pandemic levels (2.2% and 2.1% in 2018 and 2019, respectively). That is, the reinvestment of foreign exchange inflows in the countries from which they came.
The reactivation of the activities of transnationals in the region resulted in FDI outflows of US$43,046 million, a figure almost four times higher than in 2020. In that sense, the countries that have represented the largest flow of money in recent years were Brazil, Chile, Colombia and Mexico, which were responsible for 86% of the total in 2021.
In the same order, Brazilian investors invested US$19,157 million. For its part, Chile's outflow of foreign exchange was around US$14,454 million (a 116% increase over 2020), which was also one of the highest figures in the last decade.
Outward direct investment in Colombia was almost double that of the previous year, at US$3,181 million. Mexico, which accounted for 24% of outward FDI from the region in the 2010s, in 2021 accounted for just 1% with US$396 million.
As detailed by ECLAC, Uruguay and Panama also have significant volumes of investment abroad, but these tend to be companies from third countries that use them as a base for financial operations of companies in their own countries.
Source: Eldinero.com
Learn More: NEWS