The alliance will facilitate the exchange of information between both countries on best practices for digital transformation and connectivity.
The Minister of ICT, Sandra Urrutia, announced that she signed a memorandum of understanding with the Dominican Institute of Telecommunications (Indotel) to promote cooperation actions and exchange of information on good practices that promote connectivity and digital transformation in both countries.
(Three factors that enhance the democratization of technology).
This was announced during the opening of the 42nd session of the Permanent Consultative Committee on Telecommunications/ICT of the Inter-American Telecommunications Commission (Citel), held in Punta Cana.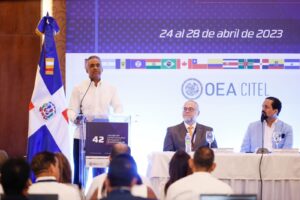 "One of our objectives is to establish strong and fruitful relations with countries in the region that will allow us to learn about experiences that enrich us and, at the same time, present our programs and strategies. The issues we will work on with the Dominican Republic, such as policies for accessibility, connectivity, the development of digital skills in citizens and the safe and responsible use of ICTs are fundamental in our task of democratizing access to ICTs," said the head of the ICT portfolio in her speech.
(How to find specialized talent for technology companies).
The memorandum will be valid for two years, extendable if so decided by the two countries. Likewise, among the actions contemplated are the organization of dialogue roundtables; holding joint workshops; exchange of material, information, documentation and data available in the areas of cooperation, design, planning and development of agreed strategic cooperation plans and policies; and execution of joint projects.
"We work to not only bring connectivity, infrastructure, but additionally we want to bring digital literacy. We are convinced that technology is the means for development and cannot be exclusive or excluding. Our goal is to incorporate women, young people, people with disabilities and the elderly," said Minister Urrutia.
Source: Portafolio.co
Learn More: ECONOMY