Executives of the Taino Bay Tourist Port and the Dominican Port Authority (APORDOM) received on the Atlantic coast the cruise ship "Allure of the Seas", the Royal Caribbean, considered one of the largest cruise ships in the world and the largest anchored in Dominican waters.
The director of the Dominican Port Authority, Jean Luis Rodriguez, highlighted the economic impact that the arrival of "Allure of the Seas" represents for the country and the confidence that it generates in the cruise sector, positioning the Dominican Republic in its objective of becoming the cruise hub of the Caribbean.
"Assuming that each cruiser spends about 100 dollars per capita on land, we are talking about an economic spillover in Puerto Plata of more than half a million dollars. This fills us with pride, to see in Taino Bay a dream come true not only for those who disembark from cruise ships, but also for the people of Puerto Plata, whose quality of life has been impacted by the arrival of more and more cruise passengers," said Jean Luis Rodríguez.
Harold Sanders, manager of Taino Bay, affirmed that these 5,822 cruise passengers are the largest number that they have received since the opening of the terminal and that with the arrival of "Allure of the Seas" the port is placed within the international threshold with the capacity to receive this type of vessels.
"92% of the people on the ship came to Puerto Plata and that speaks of an achievement for Taino Bay and for the province, which receives an important economic spill. Of the 5,370 passengers who disembarked, 1,612 went on tours, 696 took cabs to different parts of the city, and the remaining 3,162 were distributed, walked to the historic center and visited the port, leaving on average a little more than half a million dollars in just one day for Puerto Plata," said Sanders.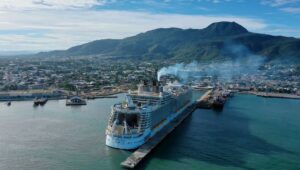 As part of the ceremonial to receive a ship that arrives to the coasts for the first time, the traditional exchange of plaques and keys with "Allure of the Seas" took place, certifying its first passage through the country.
"Allure of the Seas", belonging to the "Oasis" class, has capacity for 6,314 passengers and 2,745 crew members who are accommodated in 2,700 cabins. The ship is 362 meters long by 61 meters wide and has 16 decks, making it one of the mega-cruises that ply the seas.
The ship remained for eight hours in the Dominican coasts and departed from Puerto Plata at 05:00 in the afternoon with destination Haiti.
Taino Bay is a tourist port, managed by ITM GROUP and supervised by the Dominican Port Authority, which has three berths and a passenger center with a capacity to accommodate 14,000 cruise passengers. Its operations create more than 1,500 direct jobs and more than 3,000 indirect jobs for the entire northern area of the Caribbean country.
Learn More: CRUISES