Northwell Health, the largest health care network in the state of New York, and Grupo Yunén inaugurated the first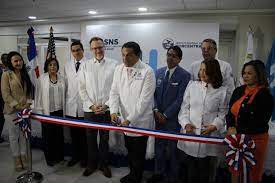 office in the country of this U.S. center, located on the third floor of the insurer's building on Abraham Lincoln Street, Santo Domingo.
The center has the medical assistance of Northwell doctors, as well as a local medical team, who have been trained to follow the U.S. protocols established by the care network.
Through this alliance, Dominican doctors affiliated with Grupo Yunén will be able to access the network's North American doctors on a second opinion basis.
In addition, patients will be able to schedule appointments and start their medical records locally and, if necessary, will be referred directly to hospitals in New York.
The inauguration ceremony was presided over by a delegation of the institution's staff, including the director of the global medicine center, Dr. Eric Cioè-Peña; the senior director of medical relationship management, Josephine Guzmán, and the director of the international department, Claudia Shabtai.
Also, the executive director of the international department, Joe Leggio and the vice minister of Tourism, Patricia Mejía, who together with Dr. José Rafael Yunen cut the ribbon.
"We are very proud of this alliance with Grupo Yunen, whose main objective is to transcend and break barriers in the field of healthcare in the Dominican Republic," explained Claudia Shabtai.
The director added that they are "committed to supporting the process of timely diagnosis and follow-up that all patients receive from the team of professionals affiliated with Grupo Yunén".
At the event, Dr. José Rafael Yunén emphasized that the alliance with Northwell Health will enable the Dominican medical staff affiliated with the insurer to be strengthened with the best practices already established in a regulatory manner in the United States, including the diagnostic processes.
Source: Listindiario.com
Learn more: HEALTH