Wyndham Grand Everest, a major new milestone with a US$100 million investment
Santo Domingo Wyndham Hotels & Resorts, the largest hotel franchise chain in the world, with more than 9,000 properties in 90 countries, is accelerating its expansion plans in the Dominican Republic with the announcement at the international tourism fair -FITUR- 2023 of Wyndham Grand Everest, a new major milestone with an investment of 100 million dollars, which will become the first Wyndham Grand condo hotel in the country and one of the tallest hotels in the Dominican Republic.
Committed to development and betting once again to boost the national tourism sector through innovation and the expansion of varied offers to attract tourists, businessmen José Rosado Torres and Edward De Valle II, joined forces to achieve the construction and operation of a condo hotel project, located in the financial district of Santo Domingo, Dominican Republic.
Mr. José Rosado Torres, president of Constructora Armando Toros, is a visionary, who has a complete business trajectory in the national market; and Mr. De Valle II, is the exclusive representative of the developer and operator of the Wyndham hotel chain for the Dominican Republic, with a vast experience in real estate, tourism and hotel investments at international level, who also manages in the national territory and on an exclusive basis, a portfolio of brands for Wyndham Hotels & Resorts, Inc.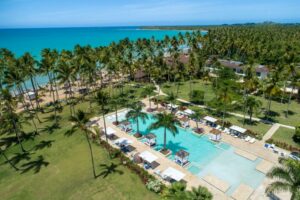 Wyndham Grand Everest
Wyndham Grand Everest, joins the Legacy Brand Hotels 5-star family, a 22-story project that is already in its middle stage with more than 14 stories under construction and scheduled to open its doors in the spring of 2025.
This high quality project is located at 43 Federico Geraldino Street, in the Piantini sector, whose main attraction will be its location and will feature a world-class gastronomic proposal with the first revolving restaurant with a 360-degree panoramic view, the highest in Santo Domingo.
Its structural design will reinforce the Dominican tourist offer, a first class project that will attract leisure and business travelers, with more than 252 rooms, two restaurants, meeting rooms, event hall, corporate offices and other operational facilities.
Constructora Armando Toros, together with its partners, is currently building more than 300 rooms in the Dominican Republic, with its next projects, Canis Dazzler Santo Domingo by Wyndham and Caribbean Dazzler Juan Dolio by Wyndham.
Grupo De Valle, together with its group of investors, will develop more than 1,000 rooms throughout the Dominican Republic. Its next projects are:
La Quinta Puerto Plata
Wyndham Pedernales
Wyndham Grand Everest
Super 8 Manzanillo – Opening December 2022
Super 8 Montecristi – Opening April 2023
Super 8 Miches
Super 8 Santo Domingo Airport
Canis Dazzler Santo Domingo by Wyndham
Caribbean Dazzler Juan Dolio by Wyndham
Wyndham Garden Punta Cana
Grupo De Valle's premise is to continue supporting the growing tourism in the Dominican Republic, supporting technical education, with fair labor and salary opportunities, and the development of local communities with clean environmental initiatives.
Source: Noticia.do
Learn More: DEVELOPMENT