Arajet, Dominican airline, bets on multi-destination tourism
The Dominican airline wants to take advantage of the AIFA route to attract tourists from Europe.
With 20 destinations from Las Americas International Airport in the Dominican Republic, Arajet expects the Caribbean country to become the continent's new hub.
Víctor Pacheco, CEO of the airline, told El Sol de México that the connectivity offered by the company will allow European and Asian tourists to easily move around the region and visit more countries in a single trip.
"The idea is to take advantage of the Dominican Republic's geographic position and, with countries like Mexico, try to see how we can create a bastion to boost our economies through tourism, trade, entrepreneurship and job creation," he said in an interview.
The idea of the new airline, which began operations with five planes this year, is to make the old dream of a multi-destination offer in the continent that was proposed with the Pacific Alliance a reality, and which seeks that travelers from distant places take advantage of economic flights to visit two or more countries when they arrive in America, as happens in Europe.
To this end, Arajet and the Dominican government are promoting the hub, a connection and base center to cover routes and destinations at Las Americas International Airport.
From this air terminal, the company, which began operations in March, already has connections to 20 destinations in Mexico, Peru, Colombia, Costa Rica, El Salvador, Guatemala, Aruba, St. Martin, Curaçao, Ecuador, Jamaica and Canada.
"We seek to take advantage of the geographic issue of the Dominican Republic so that we have a hub in the Caribbean," he stressed.
To make this project a reality, Arajet will offer ultra low-cost flights, so that a tourist from Europe arriving in the Dominican Republic will find it attractive to fly to Mexico or another destination.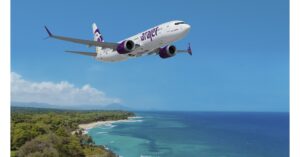 Pacheco dedicated that while the options between Santo Domingo and Mexico City were few and at a cost of one thousand dollars round trip, on average, the new airline offers round trip from 208 dollars.
"We could have had higher prices, we could have had demand, but our motto is to democratize aviation; it is not only to take advantage of the market, but we were born from a project of many years that sought to make the airplane cheaper so that more people could use it", said the executive.
With this objective in mind, the airline decided to arrive at the Felipe Angeles International Airport (AIFA) last Thursday, since the cost is 15 percent lower than that of the Mexico City International Airport (AICM) and it has a greater supply of slots that fit its strategy.
"I think it is going to be a great airport and in a few years we are going to remember these conversations (…) Arajet is taking advantage of the fact that this airport allows slots so that we can accommodate them to our strategy and the network we are building, something that cannot be done at the AICM, a terminal that is very congested," he explained. Arajet acquired 43 Boeing 737 MAX 8 aircraft, of which it already operates five and will be receiving the rest over the next few years.
Learn More: TOURISM