How to take care of them
Ah our hands…
What would we do without them ?
Often first contact with the world that surrou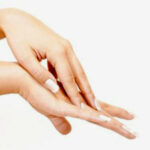 nds us, the hands allow us to appreciate the world by touch sense, and it is with them that we write, eat, wear, caress…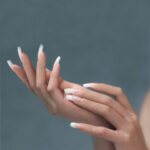 But they are also very exposed to the external threats such as the sun, the cold, the dryness, and pollution.Then to have beautiful hands all the year, here some advises:
The skin of the hands is no much hydrated naturally and the detergents and the soap damage protective film of the skin, then it is necessary to nourish them with hydrating creams.
Vaseline or paraffin applied on the hands and kept all night long renovate your hands.
Give massages to your hands.
In addition to a feeling of wellbeing and relieving, the massages of the hands allow a better absorption of the applied care.
Be careful with the sun which that often causes unpleasant stains: Use solar protector on the superior part
Take care of your nails: file them by inclining the file under the nail with a movement that goes from the outside towards the interior. Push back the cuticles after having softened them with emollient water, and apply an adapted care.