The first HUB Logistics-Spain Mission organized by the American Chamber of Commerce in the Dominican Republic (AMCHAMRD) with the support of the Directorate General of Customs (DGA) is kicking off in the city of Zaragoza, Spain, as part of the actions of the National Trade Facilitation Committee (CNFC) to turn the Dominican Republic into a world-class Logistics HUB.
The DGA, as holder of the CNFC presidency, is financing the execution of a Hub segment study to determine the market to be targeted, the opportunities, strengths and strategies to be implemented to achieve the objective outlined by President Luis Abinader.
The study is being executed by AMCHAMRD, as holder of the CNFC secretariat and the mission is part of the development of the research as a dynamic to know the good practices to emulate, being selected as a destination Zaragoza for having the largest logistics platform in Europe.
The activities carried out by the participants, on the first day, was a meeting with the Deputy Mayor of the city, Sara Fernàndez Escuer, who said "In the mayor's office of Zaragoza we believe, trust and bet a lot for public-private collaboration, we believe that the institutions have the responsibility to facilitate civil society to implement their projects".
They also visited the facilities of the Zaragoza Logistic Center, an international center of excellence in research and education in Logistics and Supply Chain Management, and participated in seminars related to the logistics HUB given by CESTE, International Business School.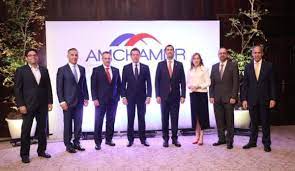 The mission is made up of owners and senior executives from 17 private sector companies in the Dominican Republic, and is led by the Deputy Director General of the DGA, Johannes Kelner, on behalf of Director Eduardo Sanz Lovatón and the institution in conjunction with AMCHAMDR's Project and Institutional Development Manager, Perla de la Rosa.
About the National Trade Facilitation Committee (CNFC). It is a public-private alliance created by Decree and established in the new General Customs Law No. 168-21. The objective of the CNFC is to facilitate internal coordination and the application of the provisions of the Trade Facilitation Agreement of the World Trade Organization (WTO), in addition to serving as a permanent table of dialogue to address issues related to the facilitation and logistics of foreign trade.
Learn More: DEVELOPMENT