The National Council of Private Enterprise (Conep) and the Confederation of Indian Industry (CII) signed a memorandum of understanding to promote cooperation in trade relations between India and the Dominican Republic.
One of the main objectives of the agreement is to exchange information on economic and trade issues related to both countries, actively encourage investment, develop and promote linkages between Indian and Dominican Republic industries, particularly small and medium-size industries.
The memorandum was signed by Conep's executive vice president, Cesar Dargam and Jai Shroff, president of the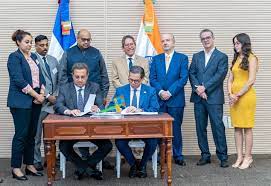 Confederation of Indian Industry's International Committee for Latin America and the Caribbean. It was signed at the Ministry of Foreign Affairs (Mirex) Convention Center.
"The signing of the MoU is a significant step towards strengthening business ties between India and the Dominican Republic. This collaboration is essential to take advantage of the opportunities offered by the global market and to foster a favorable business environment, not only for economic development, but also to improve the quality of life of the people by generating jobs and increasing competitiveness," said Cesar Dargam
Meanwhile, Jai Shroff considered, after the signing, that trade between the two countries will flourish. "The Dominican Republic is a great platform for India to enter the Caribbean and the U.S. market. And much of Indian industry will benefit from the use of free trade zones to really increase the presence of its industry in this region," he added.
Trade between India and the Dominican Republic has been growing in recent years, with a positive balance for the Dominican Republic. During 2022, India ranked sixth in Dominican exports.
The main products that the Dominican Republic exports to India are gold, cocoa, paper or cardboard for recycling; while from India come pharmaceutical products and iron and steel intermediates, according to ProDominicana data for 2022.
Source: Acento.com
Learn more: NEWS