First Lady Raquel Arbaje toured the Colonial City with her counterparts Fabiola Yáñez of Argentina, Silvana Abdo of Paraguay and Lis Cuesta of Cuba, who came to the country as part of the XXVIII Ibero-American Summit of Heads of State.
The tour was also attended by Begoña Gómez, wife of Pedro Sánchez, President of the Government of Spain, and Adriana Arza de Arriola, wife of the Chancellor of Paraguay; as well as the Mayor of Santo Domingo, Carolina Mejía.
Arbaje explained that through bilateral relations, the first ladies can make an important contribution to a productive exchange between their respective countries.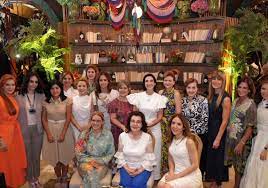 The wives of the heads of state and diplomats visited Colon Park, where they enjoyed a cultural show, an exhibition of Dominican handicrafts and a gastronomic tasting.
As part of the Turizoneando program, the first ladies toured Colon Park where they were welcomed by the Folkloric Ballet of the Ministry of Tourism, and then enjoyed an exhibition of Dominican handicrafts and a gastronomic tasting of some of our emblematic destinations.
They also visited the Palacio Consistorial, which houses a mural by Spanish artist José Vela Zanetti, and the Cathedral of Our Lady of the Annunciation, First of America, a Dominican cultural heritage site.
The tour culminated with a lunch in the presence of Vice President Raquel Peña, where Colonial City Tourism Director Rosanna Rivera presented the documentary Ser Óscar de la Renta, produced by Centro León on the occasion of the exhibition of the same name in honor of the late designer Óscar de la Renta.
Source: Mitur.gob.do
Lear more: NEWS