The Minister of the Presidency, Joel Santos Echavarría, reiterated that the Pedernales project is a reality, and in the next 30 days the bidding process for the international airport to be built in this border province will be ready.
He also emphasized that the Pedernales Trust is in the process of bidding for the private sector's support in this tourism development project.
"Work is being done on the Enriquillo Pedernales highway and, although it has nothing to do with that project, the president has already inaugurated the Azua bypass which is quite important to connect it with the National District;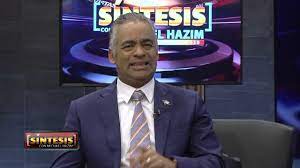 the Baní bypass is in the process of completion", he assumes.
Santos Echavarría offered this information when he was interviewed in the program "Síntesis con Michael Hazim", transmitted by the digital platform El Nuevo Diario TV.
Manzanillo
The Minister of the Presidency highlighted that the Master Plan of Manzanillo will begin next July and contemplates the construction of a port that will serve as a logistic hub for the whole northwest of the country and its economic development.
"The State is building the port, but it is not only for it to be another port, obviously it will improve logistics, it will develop other important projects in the area, that is the main objective ; it strengthens the free trade zones, it will be able to strengthen the banana export which is very important in the area", he expressed.
He emphasized that one of the main objectives is to develop the provinces of Montecristi, Valverde, Dajabón and Santiago Rodríguez, creating a multiplying effect, through the project that will be executed together with the private sector.
He also indicated that the Government would also be investing more than US$50 million in social projects to level and strengthen the population of the area through housing, security and road projects.
Source: Mitur.gob.do
Learn more: NEWS