If you ask businessman Juan José Hidalgo (Pepe Hidalgo) about the Dominican Republic, he will almost certainly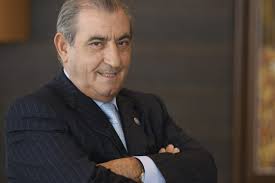 tell you that it is a country he loves. And he proves it.
The president and major shareholder of the Globalia and Air Europa companies sometimes faces a dilemma when he has to leave Dominican territory, where he comes and goes, because there are big commitments awaiting him in Spain, his nation of origin. He loves being in the Dominican Republic where he finds the perfect climate, from his point of view, and he doesn't hide it.
He has taken time out of his busy schedule to talk with the program 55 Minutos, hosted by Julissa Céspedes, on CDN channel 37, and with the newspaper elCaribe, media that cover everything related to the International Tourism Fair (Fitur), in its 43rd version in the Spanish capital.
In the previous stage of the formal conversation, he laments that after a month living in Santo Domingo, he has had to return to Madrid, where the cold is strong.
How much do you like the Dominican Republic?
I would tell you that after a month, living such a good life, I had to go back. I am more Dominican than from Spain. I even have a Dominican ID card, because I acquired the nationality. I can even vote in Santo Domingo, because I have my Dominican ID card.
Your company has around twenty thousand employees and part of them, maybe four thousand, are Dominicans. What is it like to work with Dominicans?
Dominicans have an important concept of obedience. He never talks back, he always says yes, I'm coming, although it may take a little while to arrive, but he is arriving.
I must say that I have large real estate investments in the country, I have apartments. I am very dedicated to Santo Domingo. I only have investments in Spain and Santo Domingo, but today I have more in Santo Domingo.
What makes Pepe Hidalgo, a person who can choose where to invest, have more investments in the Dominican Republic than in Spain?
I could say that the Dominican Republic has gone from being my second country to being my first. I have spent more than fifty percent of my time in my life there than in Spain. So it has been my space. But I really couldn't say that I've spent more time here or there. I would have to look at the dates and verify. But I like being in Santo Domingo.
Mr. Hidalgo, we are in a very turbulent world, especially since the year two thousand and twenty, when the pandemic began to hit us, then came the war between Russia and Ukraine. For a long time there have been problems of logistics and lack or scarcity of raw materials in international trade and a whole series of problems… How has it been for you, for the group, to work in this context of crisis?
It has been very complicated, very difficult. My group is mainly staggered, from top to bottom, with airlines, tour operators, travel agencies, hotels, airports… I can thank God that my employees have kept going. And we are on our way out, not totally, but a good part of this pandemic issue.
I hope that Air Europa, which is much stronger than before Covid, will come out of it much stronger. The hotels still have some way to go, but I hope that this year they will start to balance out economically. We have organized the aviation company well.
Would you like to talk a little about Air Europa's fleet of aircraft?
They are very modern aircraft. We are always working to be more effective and we always try to have a good staff. The company has grown a lot in long-haul… It has become more efficient. Before the pandemic, it was very difficult for the company to sell first class, and now the first thing we sell is first class and that is why we have grown so much economically.
Why is first class selling more now; people decided to have better quality?
It is not happening in only one destination… in Lima, in Buenos Aires, in Montevideo, in New York the first thing that sells is first class.
Mr. Hidalgo, you have said, and you repeat it whenever you can, that you like the Dominican Republic very much, but you also prove it by staying quite a long time in that country. How do you see the business climate, for people who want to place capital in that country and for new investors who might be interested in the Dominican Republic?
I have a lot invested in the Dominican Republic, I have taken them from Spain. And from Santo Domingo (from the Dominican Republic) I have not brought them to Spain. I have four hundred million dollars invested in properties there (…) And I am very satisfied that I have invested them and I am satisfied that it is a good investment.
The fact that you have invested so much money, something like sowing investment, means that there is a lot of confidence in the Dominican country. Right?
I have not bet on any other country, as I have done for the Dominican Republic. I could have invested and bet on Buenos Aires, Colombia or anywhere else where I have been very much invited to invest, but I am loyal to the Dominican Republic.
In that country I have had other companies in the past. I have invested in land, in hotels and I am very satisfied to have made those large investments.
I have six all-inclusive hotels in the Dominican Republic. Two of them are in Puerto Plata, two in the Bávaro area, one in Cabeza de Toro and one in Uvero Alto. I have other projects and I am building a line of almost fifteen hundred apartments to sell to Dominican and foreign investors. I am developing possibly the best estate in the Dominican Republic, which has twelve million meters of land, in Cumayasa.
You have been recognized several times as an entrepreneur, you have even been recognized this week. Is there a key in life, do you have it?
I think that if we were to review my life, we would have to start from the time I left school, when I was twelve years old, and from the time I left as an emigrant to Switzerland (…).
Yes, we have learned that you, at the age of 19, emigrated to Switzerland to work in the construction sector. And it is also known that you bought a car there with which you started your activity as a transporter of emigrants to Spain. On your return to Spain, you bought a coach and built up a fleet.
Investments
"I am very dedicated to Santo Domingo. I only have investments in Spain and Santo Domingo".
Home
"I could say that the Dominican Republic has gone from being my second country to being my first."
Learn more: NEWS