Opening up investment possibilities to sectors beyond tourism, which is widely implemented in this Caribbean country, is the objective pursued by the Spain-Dominican Republic Business Meeting officially inaugurated this Wednesday in Santo Domingo.
In fact, the forum -organized by the Spanish Secretary of State for Trade through ICEX– focuses on three sectors in which Spain is a leader: renewable energies, water and sanitation and agricultural technology.
Abinader: "We want a mutually beneficial relationship".

"We want a relationship that is mutually beneficial for investors and for the Dominican Republic (…) The investment bet in the Dominican Republic is a safe bet, the vast majority of investments is a success story," stressed Dominican President Luis Abinader, at the official opening of the meeting.
In order to facilitate the arrival of foreign businessmen, the government, which Abinader described as "pro-investment, pro-business and pro-employment", has opted for zero bureaucracy.
"Spain -he stressed- is our door to Europe and we want the Dominican Republic to be Spain's door to all Latin America", he underlined.
Spain can invest more than in tourism
In her speech, the Spanish Secretary of State for Trade and President of ICEX Spain Export and Investment, Xiana Méndez, also spoke of investment diversification beyond tourism, with specific importance in the economic and social fields and with special emphasis on energy security and food security, in a context as complicated as the current global one.
With this objective in mind, it was decided that this meeting should focus on three sectors that particularly pursue this objective: agriculture, energy and water and sanitation.
Regarding agriculture, which accounts for almost 6% of the Dominican Republic's Gross Domestic Product (GDP) and has great potential in terms of production and export capacity, Méndez referred to Spain as "a benchmark country in terms of agricultural technology with high quality standards and which offers innovative and constructive solutions to current problems".
He suggested that the DR participate more in renewable energies.
Regarding energy stability, he considered that the Dominican Republic has the best conditions to increase the participation of renewable energies, with the double objective of fighting against climate change and reducing dependence on gas, and to this end he highlighted the importance of taking advantage of the opportunities offered by the private windows of international financial institutions.
He also emphasized Spain's pioneering role in taking advantage of sometimes infrequent water resources and the innovation of Spanish companies in everything related to the efficient use of water, while stressing that "a sanitation system is essential to channel the country's development and to face extreme weather phenomena",
"Spain's and the company's commitment to the Dominican Republic is firm (…) Conditions are in place to explore new opportunities for synergy" in order to "strengthen already excellent relations", the Secretary of State assured.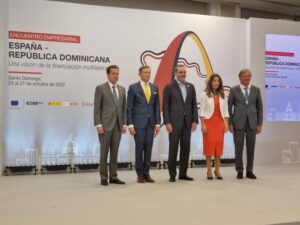 More than 160 local and Spanish companies are participating
During the business meeting, which will be held between 25 and 27 October and will be attended by officials from international organizations such as the World Bank, the Inter-American Development Bank (IDB) and the Central American Bank for Economic Integration, some 40 Spanish companies and more than 120 local companies will discuss investment and cooperation opportunities.
The Dominican Republic attaches great importance to this forum, as evidenced by the participation of six ministers – Industry, Trade and MSMEs, Víctor Bisonó; Finance, Jochi Vicente; Energy and Mines, Antonio Almonte; Economy, Planning and Development, Pavel Ernesto Isa; Agriculture, Limber Cruz; and Women's Affairs, Mayra Jiménez – and former Dominican President Hipólito Mejía.
Also taking part, among others, are representatives of the Spanish Confederation of Business Organizations (CEOE), the Spanish Chamber of Commerce and the Employers' Confederation of the Dominican Republic (Copardom).
Learn More: DEVELOPMENT