The award was given to the Spanish operator for its proposal to 'Dominican Republic: Santo Domingo Colonial and Active Tourism'.
Carlos Ruiz, general manager of Politours, received the award from Almudena Maíllo del Valle, Councilor for Tourism of the Madrid City Council.In a little less than a year since Politours began its new phase, the tour operator is already beginning to reap the rewards of effort and a job well done.
The major tourism trade fair FITUR has decided to grant the FITUR 2022 Award in the International Active Tourism category to Politours 360 for its proposal 'Dominican Republic: Santo Domingo and Active Tourism'.
Politours has designed a fascinating 8-day trip that combines culture, nature and sports. The tour starts in the Colonial City of Santo Domingo, the place of settlement of the first Spanish colonists who arrived in America in the 15th century. The Colonial Zone has more than 300 places of tourist interest and such is its importance and historical richness that in 1990 it was declared a World Heritage Site.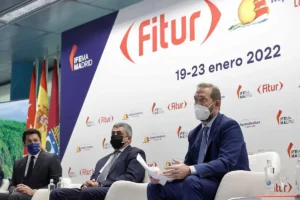 The cultural interest of the Colonial City contrasts with the scenic and natural interest of the next stop, Jarabacoa, whose name means 'Place of Waters'.
This small, picturesque town is considered the epicenter of ecological and adventure tourism on the island and adventure sports such as rafting and scuba diving are available.
We are very grateful for this award and it is an incentive to continue designing experiences for travelers seeking a combination of cultural tourism with sustainable tourism and adventure in natural areas of great ecological value.
Learn More: HIGHLIGHTS