The new low-cost airline in Colombia, Arajet, confirmed that cheap tickets from Bogota and Medellin to the Dominican Republic can now be purchased from US$74 each way (about $320,000).
These destinations join Barranquilla, Cartagena and Cali, which began operations in September of this year.
With this venture, Arajet seeks to connect Colombia's main cities with Santo Domingo, promoting the economic development of that country and tourism for Colombians.
Víctor Pacheco, founder and CEO of the airline, said: "Colombia is a destination of great interest for Arajet due to the demand of travelers to and from the Dominican Republic".
He added: "We consolidate in this country our largest operation to date with five destinations, reiterating our commitment to the consolidation of a beneficial relationship in economic, cultural and social matters for both nations".
According to Arajet, the first flight from Santo Domingo to Bogota – roundtrip – will be on December 5. It will fly to Medellín on December 6.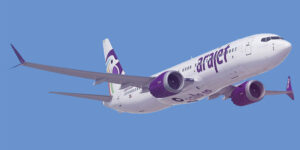 The company aims to advance its expansion strategy in the continent, with which it expects to transport seven million passengers annually in a period of about five years.
Cheap flights
On the other hand, Arajet provided further details of the flights from Bogota and Medellin to the Dominican Republic.
Carlos Mesa, vice president of customer experience of the company, explained that there will be three fare levels. These are:
Smart: only includes bag or backpack.
Comfort: you can travel with checked baggage of up to 20 kg and there is the possibility of choosing between some seats, as well as changing the flight.
Extra: includes 12 kg carry-on baggage, 20 kg checked baggage, choice of seat, priority access and flight change.
"We will start by offering 185 seats each way for these new routes and temporary promotions, making sure it is the lowest fare in the market and the best service on board," he said.
Arajet also shared the flight schedules it will have available for the Santo Domingo – Bogota – Santo Domingo and Santo Domingo – Medellin – Santo Domingo routes.
Arajet began operations with five new Boeing 737 Max-800s, which have 14% less fuel consumption compared to most single-aisle aircraft.
This is key to the airline's strategy of saving on fuel, maintenance and operating costs while offering low-cost fares.
Learn More: FLIGHTS